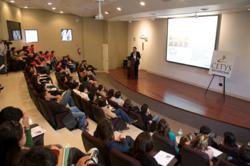 The conference will mark the official kick-off for a yearlong celebration of CETYS' 50th anniversary.
Mexicali Baja California, Mexico (PRWEB) September 13, 2011
Over twenty leaders representing higher education in the Americas, the European Union, Asia/Pacific, and Africa will convene for a conference hosted by CETYS University in Mexicali. The conference hopes to highlight the main challenges that Higher Education faces around the world, focusing on Sustainability, Demographics, Technology, Globalization, Domestic and International Accreditation, according to CETYS President Dr. Fernando Leon–Garcia.
The conference will mark the official kick-off for a yearlong celebration of CETYS' 50th anniversary and the organizers have confirmed the participation of University leaders in particular from the United States, Canada, Mexico, Austria, Czech Republic, Slovakia, Finland, Ghana, China, India, France, Korea and Australia.
Representation from the U.S. includes the Western Association of Schools and Colleges (WASC), the Hispanic Association of Colleges and Universities (HACU), San Diego State University, the University of Arizona, among others.
The Higher Education Leaders conference will take place next Monday September 19th from 8:00am to 4:00pm at CETYS University, Mexicali campus, and is free to the public by registering on the CETYS website http://www.cetys50.com/panel.
The individual panels are as follows:
1. The Impact of Changing Demographics on the Future of Universities
2. The Future Role of Accreditation in Assuring Quality
3. The Impact of Technology on the Future of Universities
4. The Impact of Globalization on the Future of Universities
5. Achieving Sustainability in the Future of Universities
CETYS University: Founded in 1961 by a group of businessmen concerned about the lack of a quality workforce to support business and community interests along the northern border of Mexico´s state of Baja California, CETYS Universidad has evolved into a highly respected and influential private nonprofit University System.
CETYS is a leader in taking Mexican Higher Education to the forefront of national and international competitiveness. Headquartered in Mexicali with three campuses, located in Mexicali, Tijuana, and Ensenada, CETYS continues to flourish and make a name for itself as one of the top university systems in Mexico.
###