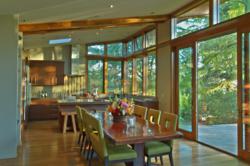 Savings on the cost of the home were $880,000 or over 50%, based on what we paid Stillwater Dwellings versus the estimates we received from site-built contractors, for a home of the same size and quality.
Seattle, WA (PRWEB) September 21, 2011
Sustainable, contemporary, intelligently-built home designer and builder Stillwater Dwellings (http://www.stillwaterdwellings.com) today announced the completion of a 3 bedroom, 2.5 bath, 2,300 square foot prefab home with a signature soaring butterfly roofline on Sauvie Island, near Portland, Oregon. The home was assembled on a 10 acre site of heirloom fruit trees and features soaring 360 degree views of the island, Mount St. Helen, Mount Hood, and Mount Rainier. It features extensive green and energy-efficient systems, and is coupled with a high-level of custom architecture. Most important to the homeowners, the home was designed, built off-site and completed for an up-front, fixed price. For a house of similar size, quality and design, other architectural firms quoted approximately $1.8 Million to permit, build and construct the owners' desired house plan on-site, nearly twice the cost of the Stillwater Dwelling home.
The home is approximately 2,300 square feet, and is highlighted by a Great Room that is over 42' wide, 17' deep, and 12'6" tall, and has no interior supporting walls. The grand hallway showcases the homeowners' extensive art collection, and the oversized glass pivot door at the end opens up boldly to the Cameroon sculpture in the garden beyond. Inside, the home is finished with museum-quality lighting, a whole house in-wall touchpad and iPhone controlled monitoring and audio/visual system, custom glass and porcelain tile bathrooms, exotic reclaimed teak hardwood flooring, low VOC paints, dual flush toilets, super-insulated wall and roof construction, and ultra high-efficiency hybrid hot water heating. The 9' high glass window wall picture frames views over the heirloom fruit orchard towards Mount St. Helens and Mount Hood. The home's additional daylight basement consists of a 2 car garage, an office with separate entrance, a full bath, a gym and oversized storage area.
In the coming months, the home will be outfitted with a full array of photovoltaic's, which will offset energy usage and make it a prime candidate for LEED Gold sustainability accreditation, which the homeowners are pursuing. None of the photovoltaic's shall be visible – an aesthetic aspect that was important to the homeowners, who are energy conscious, but don't want to inhibit the beauty of their new home.
PREVIOUS ATTEMPTS AT SITE BUILT DESIGNS WERE QUOTED AT >50% HIGHER
Perhaps most compelling is the fact that the total cost of the Stillwater Dwellings "made to order" home was significantly lower than what the owners had been quoted by two other architectural firms who had designed a house that would have been built on site. Like many of Stillwater Dwellings clients, the new owners had already gone through three long processes with several architects and contractors, only to find at the end of the day, their site-built dream house would have been priced at double their budget. Frustrated by the over-budget cost, the owners turned to the internet and found Stillwater Dwellings.
"We were immediately struck by the Stillwater Dwellings designs, but it was the upfront pricing that made it real for us. Once we visited one of their client's home in Bend, OR, we were sold… we had to have one!" noted homeowner Todd Huson. "Savings on the cost of the home were $880,000 or over 50%, based on what we paid Stillwater Dwellings versus the estimates we received from site-built contractors, for a home of the same size and quality."
JUST THE SHELL PLEASE
While Stillwater Dwellings offers three style packages: Natural, Modern and Fundamental, the clients elected to go a different route. They had already amassed a significant amount of interior fixtures for their initially-intended stick built design: wood flooring, porcelain tiles, light fixtures and artwork including many Balinese pieces from their travels to SE Asia. Stillwater Dwellings therefore worked with them to supply a fully completed exterior, but only a partially completed interior. This allowed the owners to forego the hassles and unknown expense of the mechanical systems, drywall, and millwork, and more easily focus on customizing the interior finishes leveraging what they already owned.
TILT-UP ROOF
The home features a revolutionary new tilt-up roof section. The entire roof over the great room was transported flat, on top of the home module to the home-site from the Stillwater factory. Once installed on the foundation, the crane tilted the entire roof section up, and the additional wall panels were inserted to create a 12'6"' high interior ceiling space, complete with 2'6"' high operable clerestory windows over the top of the already 9' high wall of glass.
DAYLIGHT BASEMENT
As the new home was intended to take the place of an existing house on the home-site, Stillwater Dwellings was able to preserve a portion of the original home's foundation and daylight basement, and build on top of it. Stillwater's sd133 architectural design was simply modified to include stairs down to the lower level as well as a few other owner specifications. The modules were then placed on top of the new and existing daylight basement walls.
PRESERVATION OF THE EXISTING LANDSCAPE
The original home-site featured an incredible collection of rare trees and exotic rhododendrons, and mature and established garden landscape. Impacting them in any way was not an option. Modular offsite construction turned out to be the perfect solution. Needing minimal staging and work areas, the modules were picked up from the driveway and lifted over the trees and bushes, and then carefully down onto the foundation.
ABOUT STILLWATER DWELLINGS:
SUSTAINABLE FEATURES:
All Stillwater homes include a high level of green and sustainable living features: low VOC paints, dual flush toilets, ultra-high efficiency heating and hot water systems, natural wool carpeting, prefinished/engineering eco-friendly wood flooring, Marmoleum, engineered quartz slab countertops, over-insulated walls/ceilings/floors, and high-efficiency windows with argon gas and low-e film.
EXCEPTIONAL QUALITY:
All Stillwater homes are built indoors, in climate-controlled conditions to the highest quality standards and the IRC code; the same code that governs conventional site built homes. Homes are transported as 96% complete modules, installed and finished on-site by Stillwater Dwellings.
PREDICTABLE COST:
All Stillwater clients are given fixed, up-front pricing on their home before any construction begins. Unlike traditional site-built home clients who are given estimates that commonly are exceeded during the building process, Stillwater clients contractually know what their home will cost before they begin.
COMPANY PROFILE:
Founded in 2008, Stillwater Dwellings is a Seattle-based company that designs and builds high quality, prefabricated, contemporary homes featuring quality materials, fine detailing, and eco-friendly features. Our process is the predictable and smart alternative to site-built homes.
The major benefits to our clients are:

Sustainable contemporary architecture
Upfront fixed pricing
A straightforward design modification process
Faster occupancy than the usual design/build process
Exceptional value
All homes have their signature soaring butterfly roofline, unique interior light shelf and exterior "visors", plate steel entry canopies, and efficient layouts that emphasize indoor/outdoor living and entertaining. We build in an indoor, controlled environment in Oregon, in just a matter of weeks to obtain the highest level of quality, while drastically reducing waste and keeping costs lower and more predictable than a typical site-built home.
Stillwater Dwellings portfolio also includes finished homes in Bend and Portland, Oregon, Santa Barbara, CA as well as buildings in production and planning stages in Roslyn, WA; Vashon Island, WA; Sonoma, CA; and Southern Utah. Stillwater Dwellings homes are available throughout the western region of the US, as well as Alaska, Hawaii, and Canada.
PRESS KIT & ADDITIONAL/HI-RES IMAGES:
For a complete press kit, hi-resolution images of the interiors, and company overview and bios, please visit: http://www.stillwaterdwellings.com/portland-home.htm
###