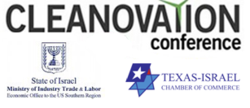 Roee Madai, Israel's Economic Consul in the US South states, "Texas and Israel are both leaders in clean technology, Cleanovation is a great opportunity for all companies involved to share and explore cutting-edge innovations in clean water and energy."
Houston, TX (PRWEB) September 13, 2011
On Wednesday September 14th, the Government of Israel's Economic Mission to the US Southern region in cooperation with the Texas-Israel Chamber of Commerce will host Cleanovation,a day-long conference featuring some of the best Israeli and Global cleantech companies. The conference is designed to explore innovative clean technologies in energy and water, while building business opportunities for all participating companies. Speakers at Cleanovation include Jim Trevathan, Executive Vice President of Waste Management; Barry Smitherman, Commissioner of Texas Railroad Commission; John Hofmeister, former President of Shell Oil and current founder and head of Citizens for Affordable Energy; Jeffrey Katz, CTO Energy and Utilities Industry of IBM and Carl MacKinnon, Global Sales Director of Communications for GE Digital Energy.
The conference will take place at Hotel Zaza in Houston, Texas. The conference is part of a clean-tech roadshow in which the Israeli Government with various partners is hosting similar conferences this week with Israeli clean-tech companies in Albuquerque and Miami. The conference in Albuquerque, under the name "Water-Gy" will take place on Friday, September 16th and the conference in Miami, also under the name "Water-Gy", already took place this Monday, September 12th.
Israel's determination and efforts to make the most of their scarce natural recourses, has led it to become a world leader in water and alternative energy innovations. Israel is considered an expert in the fields of water desalination, water treatment and reclamation, water safety, and agricultural consumption via drip irrigation- an Israeli invention. Israel has become the leading nation in the world of water conservation, recycling 75% of its water. Israel is also a pioneer in the solar and geothermal technology industries - today 85% of the homes in Israel use solar thermal systems, making Israel the world leader in the use of solar energy per capita.
Cleanovation is sponsored in partnership with Waste Management, CenterPoint Energy, McGuire Woods, Ernst Young, and IDE Technologies. Media sponsors include Clean Technology and Sustainable Industries Organization, Rice Alliance for Technology and Entrepreneurship, Global Water Intelligence, American Water Intelligence and MERCOM Capitol Group.
More information can be found at http://www.texasisrael-cleantech.org
###