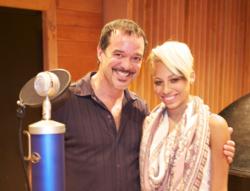 Ballroom Basix brightens 9/11 sorrow with Grammy-nominated artist Karina Pasian and a charitable new anthem
New York, NY (PRWEB) September 13, 2011
As the nation mourned, a merengue was born!
The 10-year anniversary of the 9/11 tragedy this past Sunday was honored with many special tributes, but none quite as inspiring as a "flash bash" in New York City's Union Square, featuring dozens of inner city school children from Harlem dancing to a brand-new pop/merengue version of America, The Beautiful by Karina Pasian -- the only Dominican-American singer ever to perform at the White House!
The arrangement, which includes both English and Spanish lyrics, was conceived and created by Sidney Grant, the founder of Ballroom Basix, a not-for-profit that promotes the etiquette and education of non-competitive partner dancing to 6th graders in the public schools. Academy and Tony Award winning actress Marcia Gay Harden, a mother of three, serves as the program's Advisory Chairperson.
As someone raised in Washington Heights, Ms. Pasian was thrilled to participate in the project. "When Sid told me about what he does for kids, and how much they love merengue, I knew I wanted to lend my voice to his vision," adding, "This is all about bringing people together. Even though 9/11 was such a horrible event, [people] should still celebrate life and our beautiful country."
Tainted Blue producer Andrew Koss called the anthem "a melting pot of genres...It doesn't get more American than that." His studio hosted both classical and Latino musicians (assembled by Octavio Bruetti and Luisito Ayala) who recorded the innovative arrangement just two weeks before the anniversary. "It came together pretty quickly but it sounds great!" Koss said, "I'm quite thrilled with what we've got."
Grant touted his altruistic project as "the possibility of song and dance transcending tragedy and terrorism." He proudly summarized his mission to an appreciative crowd in Union Square. "By celebrating what connects us rather than what divides us, we send a vital message to New York City and the world that cooperation and creativity are two things that make America great -- and what better way to do that than with multicultural schoolchildren dancing respectfully with one another, hand-in-hand and arm-in-arm?"
Stacee Mandeville, a Ballroom Basix teaching artist who helped organize the flash bash, explained that "with so much impersonal technology disconnecting kids, Ballroom Basix is a great way to create healthy physical connection among students," adding "with all the athletic and academic competition in their young lives, it's especially important that we can bring this connection to them non-competitively."
When asked why he called it a "bash," Grant responded. "Flash mobs have been destructive in recent months, so calling it a "bash," in the celebratory sense of the word, seemed more appropriate for 9/11. Furthermore, it enables us to reclaim the word "bash" in a positive light as well, since we all know that "bashing," and gay bashing in particular, is unfortunately epidemic in some parts of society.
Grant danced proudly alongside his Harlem students Sunday, dressed appropriately in red, white and blue with his former ballroom partner Betina Hershey, symbolically portraying Lady Liberty. For the past decade, Grant's own professional focus has been Argentine Tango. He recently won the 2011 U.S. Tango Championship with Gayle Madeira and performed with both her and the Ballroom Basix kids at the annual Junta Hispana Festival in Flushing Meadow, which was televised on Channel 41 (Telemundo).
Grant, who is also a published poet, graduated summa cum laude from Rutgers College, where he was valedictorian in the School of Journalism and Communication, minoring in Spanish -- all of which helped in creating the balance of Spanish and English lyrics for this exciting version of America, The Beautiful. "Spanish is the second most used language in the United States, with more than 50 million speakers. In fact, one piece of U.S. trivia few people know is that Spanish was the first language spoke by permanent European settlers in St. Augustine, Florida. Consequently, I wanted this 9/11 tribute to reflect our contemporary linguistic culture. I am very proud to have studied Spanish both here and abroad.
Reinaldo Gonzalez, who volunteers for Ballroom Basix as Operations Manager and had a recording career of his own in the '80s, was honored to be associated with such a meaningful project. "Sid uses a lot of Spanish in his teaching methodology. For example, saying "codos todos" (elbows everybody) to get the children in partner position with one another. So when he told me he was writing both Spanish and English lyrics for a revised, revved-up rendition of America The Beautiful, I couldn't think of a more fitting tribute to the diversity of the departed on that tragic day 10 years ago."
Project manager and video director Waldo Tejada summed it up best, "Mr. Grant's concept captures the best of the multicultural American spirit, and his clever lyrics, combined with Karina's powerhouse vocals, will make this a must-have download for every American's music collection, as it's hip, historic and heartfelt."
The track will be available for download later this week on iTunes. 100% of the post-production proceeds go to Ballroom Basix and Tuesday's Children, an organization that provides support and services for the children of 9/11 victims.
To view the memorable 9/11 flash bash video from New York City's Union Square, click here: http://www.youtube.com/watch?v=ay658HE_9qY
Ballroom Basix website: http://www.ballroombasix.com
Ballroom Basix is a not-for-profit organization fiscally sponsored by the New York Foundation for the Arts. Donations can be made via our website, http://www.ballroombasix.com or mailed directly to our Harlem Headquarters at 178 East 117th Street, Suite 1B, NYC, NY 10035. Please make all checks out to NYFA with "for Ballroom Basix" written clearly in the memo line
To contact Sidney Grant, please email sidneygrant(at)ballroombasix(dot)org
###