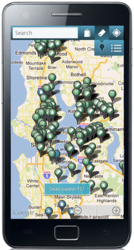 Bellevue, WA (PRWEB) September 13, 2011
Point Inside™, Inc. (http://www.pointinside.com), the company that has transformed shopping by engaging customers through their smartphones at every point along the purchase path, announces the release of Point Inside Shopping & Travel 3.0 for Android-based devices. Building on its highly intuitive interactive mapping interface and location technologies, shoppers are now able to see special offers, deals and coupons available within malls and from millions of other national and local retailers.
Point Inside 3.0 is free and combines indoor mapping technology and expertise with deep retailer offer data. For the first time, shoppers are able to easily find deals superimposed on maps of their favorite stores within shopping malls and other locations.
"The users of the Point Inside app have told us how much they enjoy using the indoor maps of malls and airports," said Josh Marti, CEO of Point Inside. "Now they will also discover the special offers and deals that are available from merchants inside those venues plus millions of additional retailers. This is a significant step forward in how customers will find deals. And it's just the beginning of where we're headed."
Key new features include:

Hundreds of thousands of deals by location and venue, such as a specific mall or selected geographic areas
Special offers from national brands and local retailers
Listings of millions of retailers searchable by location and category including clothing and electronics
In-venue navigation features with routing
Point Inside Shopping & Travel also includes:

Maps of over 1100 shopping malls, airports and theme parks
Store and shop directory information including store hours, contact information and special events
Complete list of services including restaurants, restrooms, ATMs, parking, elevators, escalators, rental cars, gates and ticketing counters.
Driving directions to locations
###