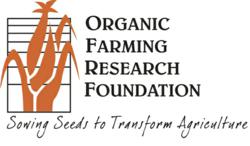 Santa Cruz, CA (PRWEB) September 13, 2011
What: With the Farm Bill due to heat up this fall, the Santa Cruz, CA-based Organic Farming Research Foundation (OFRF) is unveiling a report documenting how organic farming is good for people, the environment, and the economy in numerous ways. The report, Organic Farming for Health and Prosperity, will highlight policy recommendations to advance organic farming in the Farm Bill and beyond.
In addition, OFRF will announce how and why it is engaging 10 organic advocates from 10 legislatively key states (Alabama, Georgia, Iowa, Indiana, Maine, Michigan, Minnesota, New York, North Dakota, and Ohio). The advocates will galvanize organic farmers and consumers alike to support policies that fortify organic farmers in America. The advocates will be attending OFRF's Organic Advocacy Training Session (OATS) September 19-20 in Washington, D.C. and will also visit their congressional members and the U.S. Department of Agriculture for its organic listening session.
Who: Presenting is Maureen Wilmot, OFRF's Executive Director. Maureen is the most recent of four women now leading U.S. organic food and farming advocacy organizations, including The Organic Center, Organic Trade Association (OTA), and Organic Materials Review Institute.
When: Monday, September 19, 2011, from 9 – 10 a.m.
Where: The Zenger room at The National Press Club, 529 14th Street NW, Washington, D.C., 20045.
RSVP: Please confirm attendance by noon on Friday, September 16, 2011 to Sandra Marquardt, 301-592-0077, or smarquardt(at)onthemarkpr(dot)com.
About the Organic Farming Research Foundation
The Organic Farming Research Foundation (OFRF) is the only non-profit, national champion of the American organic family farmer. OFRF is located in Santa Cruz, California, and was founded in 1990. OFRF creates organic champions in Congress, integrates organic farming in agricultural universities, provides research that is responsive to the organic farmers' needs, and partners with organizations to secure the connection between organic farming and a healthy planet and population.
Contact: Sandra Marquardt, On the Mark PR,
301-592-0077, smarquardt(at)onthemarkpr(dot)com
# # #