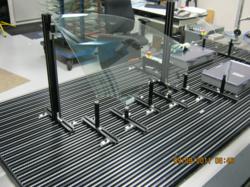 FixLogix products have streamlined our business. We are a contract CMM programming company, and providing accurate turn-key CMM inspection programs is our job. FixLogix helps make us look good. Jim Jewell, Metrology Solutions Inc.
Olivet, MI (PRWEB) September 14, 2011
FixLogix LLC has developed new heavy-duty components that further simplify CMM fixture construction for ferrous and larger parts. Stainless jack-stand pins are 3/8ths diameter with a full radius top, and over ½" travel adjustment, also using a ¼-20 thread. The pins were developed for a large manufacturer of automotive glass, who purchased a very large plate and component kit from FixLogix for their new CMM. The new magnetic pin locator assemblies have already been implemented by drive train component manufacturers, and several companies producing steel stampings.
FixLogix applies new concepts and technology to modular CMM fixture technology. FixLogix T-slot fixture plates are marked with laser engraved reference scales along the T-slots, and each T-slot is alpha-identified. This provides clear documentation of the fixture setup for easy repeat setups. A major advantage of the T-slot system is multi-axis infinite positioning of components. This simplifies fixture construction by easily allowing the fixture to be "built to the part", placing locators where they don't interfere with datums or critical part features. In turn this reduces the average time required to assemble part-holding fixtures.
The FixLogix system offers a highly functional system for less than ½ the cost of competing fixture systems. The component kit is comprehensive such that the vast majority of part shapes- types can be adequately staged for inspection using the components in the standard kit. The product is 95% + produced in Michigan.
This CMM component kit is compatible with many other fixture systems, and is also cross-compatible with the FixLogix fixture systems for vision systems and optical comparators. The system is being utilized in a variety of coordinate metrology applications. Users of portable coordinate inspection systems such as articulating arms, white light, and laser scanners have found the fixture system to be very helpful. The economical price point is appropriate for these applications. The system is available in English or Metric versions.
FixLogix LLC was formed in 2007 to produce and sell modular fixture systems for metrology, and other light duty part-holding applications. The company also produces modular fixture systems for vision systems, optical comparators, and laser scanners. The company maintains an E-commerce website, and takes most major credit cards.
###