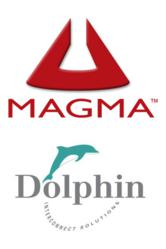 Dolphin and Magma are the innovation leaders harnessing the raw power of PCI Express and delivering it to customers in simple to deploy integrated hardware and software building blocks
San Diego, CA (PRWEB) September 13, 2011
Magma, an innovative and visionary developer of PCI Express® connectivity products, and Dolphin, a global provider of ultra low-latency, high bandwidth interconnect solutions, today announces a sales partnership to deliver customers complete and optimized PCI Express interconnect solutions. Through this partnership, customers will have direct access to state of the art PCI Express Gen2 and Gen3 solutions from each company. The companies have worked together to validate interoperability and ensure optimized performance of solutions made up of key components from each company. Customers can purchase product with the assurance that both companies stand behind the total solution.
"Magma and Dolphin share a common vision of the fundamental power of PCI Express to expand beyond motherboard connectivity to provide powerful system area network solutions." says Randy Jones, CEO and President at Magma. "We are pleased to join Dolphin in delivering customers the high bandwidth, low latency infrastructure they need for their most demanding applications."
"We believe PCI Express will become the technology of choice for server-to-server, cloud computing and multiple server-to-IO connectivity across numerous market segments" said Hugo Kohmann, General Manager Dolphin Interconnect Solutions. "Dolphin and Magma are the innovation leaders harnessing the raw power of PCI Express and delivering it to customers in simple to deploy integrated hardware and software building blocks."
This sales alliance capitalizes on the core strengths of both companies. Dolphin has delivered high performance low latency interconnect products since 1992 with a comprehensive software suite supporting Windows and Linux sockets, optimized TCP/IP drivers and shared memory applications. Magma has over 15 years of experience developing and delivering PCI and PCI Express cabled expansion solutions to a wide range of applications. Through this partnership Magma will begin selling Dolphin's IX family of IDT based PCI Express switching products. These products enable customer applications to communicate over copper or fiber cables up to 300 meters at full PCI Express throughput with an end to end latency down to 0.81us. Dolphin products complement Magma's future PCI Express switch products. Dolphin will sell Magma's ExpressBox PCI Express Gen2 expansion solutions including ExpressBox 4 and ExpressBox 7.
About Magma
Magma develops and manufactures PCI & PCI Express Expansion Systems for servers, desktops and portable platforms. Magma's patented expansion products extend your system's PCI and PCI Express outside the computer over cable to a chassis containing additional card slots. Magma's ExpressBox™ line of products includes enclosed and non-enclosed solutions ranging from low-end single slot expansion products to fault-tolerant, highly reliable, available and serviceable (RAS) chassis specifically designed for mission critical environments. Magma is dedicated to providing rock solid expansion products for the most demanding configurations. As new interconnect protocols become available, Magma will continue its leadership position at the forefront of expansion technology innovation.
Magma products are platform independent, and are used in a variety of industries including audio and video production, test and measurement, medical imaging, surveillance, aerospace and defense, telecommunications, data acquisition, and high performance computing. Magma's team of experienced engineers has been developing expansion and connectivity solutions since 1987. Magma products are assembled in San Diego, CA and go through rigorous certification and quality processes. Magma is the trade name of Mission Technology Group, Inc.
For more information about Magma or its products, call (800) 285-8990 or (858) 530-2511 or visit our website at http://www.magma.com.
Contact
Victoria Kohlhorst
Senior Marketing Manager
858-880-2218
vkohlhorst(at)magma(dot)com
About Dolphin
Dolphin Interconnect Solutions AS a fully owned subsidiary of Dolphin Group ASA (OSE:DOLP) is a global provider of ultra low-latency, high-bandwidth computer interconnect solutions. These products are ideal for high speed embedded products, clustered databases, networking, web services and industrial applications.
For more information about Dolphin or its products please visit http://www.dolphinics.com or email: [email protected]
Contact
Herman Paraison
Director of Product Marketing
214960-9066
Paraison(at)dolphinics(dot)com
###