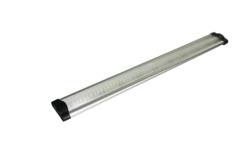 This exciting new product is a landmark for DEKOR™ and the latest addition to its growing line of indoor LED lighting products ... Easy to install, long lasting and durable. Well designed and well built. The best value for your hard earned money.
(PRWEB) September 15, 2011
"Good under cabinet lights are hard to come by ".
So says Duane McCall former NASA engineer and current President and CEO of DEKOR™, a Colorado based designer and innovator of LED lighting, deck and railing products. "I didn't realize this until I went to redo my own kitchen. " In surveying what was available on the market and trying a good many of them out, Mr. McCall came to the realization that "if they were any good they cost a lot of money, but still had design drawbacks, and were difficult to install. Why?"
Mr. McCall elaborated further. "DEKOR™ is in the business of using cutting edge LED technology in unique lighting applications. What I found on the market was either inefficient in power consumption or was incredibly hard to install with cutting of wires and absolutely no modularity. If you needed one more light you had to purchase 3. They almost always were bulky in size where hiding them became a difficult challenge. Regardless of what I tried none were really suitable. So what does one do? You design the best of all worlds and offer it to the public."
So Mr. McCall decided to take on the challenge of building a better under cabinet lighting solution. The result is DEKOR™'s new line of cutting edge Under Cabinet Lights.
Many LED light fixtures marketed as replacements for incandescent lighting actually do not actually provide the same lighting levels. They may not be safe to use for tasks such as chopping and dicing.
LIGHT QUANTITY
DEKOR™ LED Under Cabinet Lights not only meet but exceed the light level recommended by the Illuminating Engineering Society of North America for critical task such as chopping and dicing. The lights are also dimmable so you can easily switch from task lighting to mood lighting when you install a dimmer (sold separately).
LIGHT QUALITY
DEKOR™ LED Under Cabinet Lights have a wide angle and sufficient LEDs placed close together to provide a smooth, even illumination – no hot spots, no shadows – that will not only highlight your entire countertop but light your backsplash as well and make your task areas more functional.
WARM WHITE COLOR SPECTRUM
DEKOR™ LED Under Cabinet Lights have a warm white color similar to incandescent lighting and have a correlated color temperature (CCT) of 3200°K.
MODULAR DESIGN AND EASE OF INSTALLATION
"Plug and play" connectors make installation simple. A wide range of mounting hardware and connectors is available in order to create a custom light installation. The 4 light under cabinet light kit also contains a 12V transformer with the same simple connector, no splicing required.
MULTIPLE APPLICATIONS
Originally designed to be used under cabinets and under counters, the lights can also be used under shelves, in closets, and as workbench lighting. Turn them upside down for cove lighting - ledges, recesses, valences, etc. "These lights are so versatile that we already know that people will use them everywhere that they can".
In summary, here is how these new lights improve on an old idea …
Easy Installation

Plug and play wire connectors: if you can charge your cell phone, you can install these lights
Install in minutes not hours
Latest LED Technology

54 high output SMD LEDs per light bar produce bright even light over a wide viewing angle
Energy Efficient

80% more efficient than incandescent lighting
with even more energy savings over halogen and xenon lights

One led light bar consumes the same amount of electricity as a 4 watt nightlight bulb
Aesthetics

Warm white color spectrum: the ambience of incandescent lighting
Large beam angle (110°): to light more of your countertop or task surface
Ultra thin: less than 1/2" high for easy hiding under your cabinets
Even light distribution: "hot spots" are minimized on a reflective counter top or over linear runs
Well Designed

Modular with a wide range of accessories and plug and play connectors
Dimmable with DEKOR™'s EZDIMMER (sold separately)
Well Engineered

High light output of 310 lumens
Correlated color temperature (CCT) of 3200° K
54 discrete LEDs so if one fails it doesn't impact the others
Long lasting: bulb life of > 30,000 hrs
Always cool to the touch (heat means wasted energy)
Well Built

Durable extruded aluminum housing with a corrosion-resistant anodized finish
The units are sealed so dust and humidity are of no consequence. This also allows for easy cleaning with no chance of solution migration which could damage other cabinet lights
LEDs can be cheaply made and will last a proportionally short period of time. DEKOR uses only the finest LEDs from one of the most well respected LED manufacturers.
The LEDs are discretely wired giving you redundant lighting even if an LED fails.
With an Industry Leading Warranty

5 years free replacement when used with a DEKOR™ brand LED transformer.
In Mr. McCall's words:
"We think we've hit a home run with these new lights. The design removes all the obstacles that I encountered in my own project and quite honestly are years ahead of their time. But you can judge them for yourself".
"We now offer a complete and well rounded LED cabinet lighting solution. With these new Under Cabinet Lights and our popular indoor recessed down lights for cabinet interiors, you'll be able to light a kitchen like never before. This exciting new product is a landmark for DEKOR™ and the latest addition to its growing line of indoor LED lighting products. Like all DEKOR™ products, it both extends and embodies the DEKOR™ ethos: the pinnacle of LED quality. Easy to install, long lasting and durable. Well designed, well engineered and well built. The best value for your hard earned money."
To learn more about DEKOR™'s new LED Under Cabinet Lights, please visit the DEKOR™ website:
http://www.de-kor.com/under-cabinet-led-lighting.html
ABOUT DEKOR
Over the last nine years DEKOR™ has grown from its roots as a premium baluster manufacturer into a leading designer and innovator of LED lighting products that transcend the deck industry. As our list of satisfied customers has overwhelmingly grown, they all appreciate the durability, look, and ease of installation of our products. Simply put our products give unprecedented quality performance, with the utmost long-term value.
DEKOR™ is an EnergyStar Partner.
###