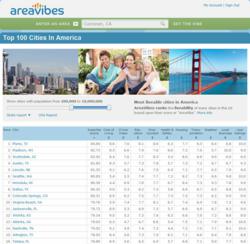 (PRWEB) September 13, 2011
Plano, TX has been named the best place to live in America by AreaVibes, in its list of the 100 best places to live. The scores were calculated using ten factors: cost of living, crime, education, employment, health & safety, housing , transportation, local businesses, weather and city reviews. AreaVibes rated all major cities with a minimum population of 200,000 and Plano, TX was the clear winner with a total score of 84.66 out of 100.
Plano scored well in almost every major category, most noticeably cost of living, crime, employment and weather. Living in Plano is both safe and affordable. The violent crime rate in Plano is 48% lower than the national average while the cost of living in Plano is 5% less than the rest of America. Jobs in Plano are financially rewarding as the income per capita in Plano is a staggering 82% higher than the national average. The weather in Plano is pleasant all year round. With summer months maintaining an average in the low 80s and the winter months cooling off in the mid 50s.
Rounding out the rest of the top 10 cities were: 1) Plano, 2) Madison, 3) Scottsdale, 4) Austin, 5) Lincoln, 6) Seattle, 7) Honolulu, 8) Dallas, 9) Colorado Springs and 10) Virginia Beach.
"With the struggling economy, many Americans are considering relocation for employment opportunities or to simply save money in a less expensive city," said AreaVibes CEO Jon Russo. "The list of the top 100 cities in America allows people to quickly identify some great places to live and gives them the opportunity to further explore the city."
See the full list of the top 100 cities: http://www.areavibes.com/best-places/america/
About AreaVibes: By measuring factors such as cost of living, crime, education and housing, AreaVibes ranks and scores more than 20,000 cities and neighborhoods, helping users make educated choices on the best places to live. Also available for each city is a forum and a user review section, making the site a great resource for those who are moving, traveling or just trying to learn more about where they live. For more information, please visit areavibes.com.
Media Contact:
Jon Russo
416-698-7991
jon(at)areavibes(dot)com
###