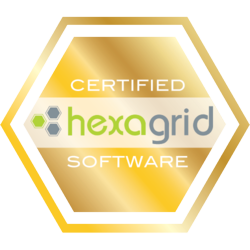 Hexagrid's Software Certification Program takes the term 'cloud ecosystem' to a whole new level...
Austin, TX (PRWEB) September 13, 2011
Hexagrid Computing, a leading developer of cloud enablement solutions, announces a new Software Certification Program that tests and promotes certified software solutions within Hexagrid's worldwide network of enterprise, service provider, and reseller cloud communities.
"The Software Certification Program is a great fit for Hexagrid's channel-friendly partner profile which emphasizes business value to the entire VxDatacenter cloud community," says Dave Rokita, Hexagrid's Vice President of Technology Operations. "This program offers VxDatacenter users a selection of software solutions that have been tested and are ready for licensing and distribution to cloud end-users through VxDatacenter's built-in AppMarket. Service providers, resellers, software developers, and end-users alike benefit from efficient software self-provisioning via cloud, and this certification program promotes expanded use of this key VxDatacenter functionality."
Hexagrid's tiered software certification program allows software developers to control partnership progression and increase the scope of software delivery through the wide-range of potential VxDatacenter outlets. At the most basic level, Bronze Certified Software solutions have been tested for distribution and self-provisioning through the VxDatacenter AppMarket which facilitates adoption of those solutions within the Hexagrid cloud community.
Silver and Gold Certified Partners offer and receive several additional advantages to increase VxDatacenter cloud-based software sales. These partners offer vendor support and participate in joint marketing efforts to promote their software solutions within Hexagrid's service provider and enterprise distribution channels. Hexagrid will also put Silver and Gold Certified Software software in the V3Cloud AppMarket which is Hexagrid's hosted VxDatacenter solution exclusively available to service providers and resellers.
In addition to these advantages, Gold Certified Partners deliver Software as a Service (SaaS) cloud solutions to their entire worldwide market via VxDatacenter. These software developers can build their own cloud or host the cloud with any of Hexagrid's cloud partners at a discounted rate and will be invited to co-market their SaaS solutions with Hexagrid at worldwide industry events.
"Hexagrid's Software Certification Program takes the term 'cloud ecosystem' to a whole new level," says Daniel Thomas, Director of Compare the Cloud. "As a cloud consultant and business analyst, I advise my clients to think big, and Hexagrid simplifies the worldwide cloud ecosystem concept by making cloud revenue accessible at every level of the distribution channel. From the largest datacentres and service providers to smaller MSPs and resellers, from large-scale enterprise to SMBs, Hexagrid's VxDatacenter cloud technology enables business efficiency with optimal agility. Hexagrid's Software Certification Program completes the picture by involving software partnerships as a key value-added component to strengthen the entire cloud ecosystem."
About Hexagrid Computing
A recognized thought leader in the Infrastructure as a Service (IaaS) industry, Hexagrid developed the first cloud computing platform that directly aligns with the real-world IT delivery models of both service providers and enterprises. Hexagrid provides all the software and support that IT organizations need to successfully build clouds that fit their specific business and end-user requirements. Hexagrid cloud solutions truly simplify and expedite virtual IT management, empowering successful cloud computing strategies that quickly generate profits by pooling resources, delivering control, and building value. For more information, please visit the company website.
###