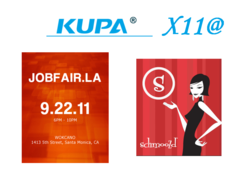 Kupa recently launched its X11, a pen + touch tablet computer to great anticipation and is actively looking to hire marketing sales and other professionals at Schmoozd's JOBFAIR.LA
Los Angeles, CA (PRWEB) September 13, 2011
Kupa announces its participation at Tech and Startup Job Fair hosted by Schmoozd on Sep 22nd in Los Angeles CA. Kupa recently launched its X11, a pen + touch tablet computer to great anticipation and is actively looking to hire marketing sales and other professionals. There will be X11 units available at the event for user to test out features, and check out the build. Kupa representatives will be there to answer any questions users may have.
Schmoozd develops and executes exclusive social networking events at great venues where quality people exchange ideas, strategies, and tactics. Whether you have a hot piece of software, a product you want to sell at retail, or just some cool information you want to get in front of people, this is a good place to start. Schmoozd founded JobFair.LA on the basis that not everything has to be boring! While still fulfilling the requirement of connecting companies that are hiring with people that are looking for employment or a change of employment, why not do it in a more casual environment?
Schmoozd JobFair.LA event detail:
When: Sep 22nd, 6:00PM - 10:00PM
Where: Wokcano, 1413 5th Street, Santa Monica, CA
What: X11, Kupa representatives, live music , happy hour menu and many follow technology enthusiasts
Kupa X11 is the next generation Windows based table PC with pen + touch dual input system, 10 hours battery life and many unique features that are not found in current tablet computers:
Pen + Touch Input System with pen is the sensitive to different levels of pressure
10 hours continuous operation and 30 days standby battery life with a single charge
Robust , energy efficient and silent operation with thin and light profile result from solid state design
128GB SSD is the largest storage option of any tablet computer
Wi-Fi, 3G, Bluetooth, USB and mini HDMI offers full connectivity, wireless or wired
Dual cameras: Front 2MP / Rear 5MP
Enterprise security features such as fingerprint scanner and Trusted Platform Module
Dual antenna design for Wi-Fi, 3G and GPS for maximum signal strength
Windows 7 Professional
X11 is available for preorder now. Please visit us at http://www.kupaworld.com or email us at info.us(at)kupaworld(dot)com for more details or questions.
Kupa is a hardware manufacturer with a focus on mobile and green technologies.
###