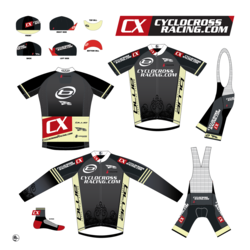 Mercer Island, WA (PRWEB) September 13, 2011
With a strong roster of returning and new racers and the solid support from sponsors Cyclocrossracing.com, Blue Competition Cycles, Rolf Prima Wheels and Hincapie Sportswear, Cyclocrossracing.com p/b Blue's National and Grassroots level teams are back for another year of cyclocross racing success.
The Professional Team Roster for the 2011/12 race season will include returning racers Tristan Schouten (WI), Eric Emsky (CO), Nathan Bannerman (WA) and Louie Fountain (ID) and new additions Donald Reeb (OR), Samantha Schneider (WI), Skylar Schneider (WI) and Alyssa Severn (WI). In addition to vast racing experience, these riders have an impressive list of wins including numerous top ten finishes, 7th overall in the USGP series, Top Ten at US Cyclocross Nationals Elite, U23 and Single Speed, Top Ten Collegiate Nationals, and several National Junior and U23 Championship Road titles.
With one season under the belt, the team's sponsors are excited to be back for more in the ever-growing world of cyclocross racing. As Rich Hincapie, of Hincapie Sportswear, puts it, "We love the enthusiasm for cross that the team has. They love racing their bikes and they always ride hard. We are proud to be part of a program that's active in the sport and is helping cyclocross grow."
Hincapie's sentiment is seconded by Chance Regina, of Blue Competition Cycles, who had this to say, "Cyclocross is growing…it is a significant part of the Blue brand…especially as it pertains to establishing ourselves in more than just the road or tri market…the team has a tremendous grassroots appeal which lets us reach even non-traditional cross market."
"We are really excited to be able to return with our National and Grassroots Teams for the 2011 cross season," states CyclocrossRacing.com owner Erik Viafore. "We have a great group of Pro's that we are honored to support and an enthusiast Grassroots Team built on camaraderie and true love of this growing sport. If you see the big red 'CX' out there on our kits, come by and say hello."
Of particular interest to cross fanatics will be the new 38CX cross wheels from Rolf Prima, which were developed after testing and input from Tristan Schouten. Schouten rode prototypes of the 38CX to a Top Ten finish at last year's US Cyclocross Nationals.
From Brian Roddy, owner of Rolf Prima, "We normally aren't looking forward to the wet weather in the NW but with the Cyclocrossracing.com p/b Blue Competition & Rolf Prima back in action starting at Starcrossed, we're looking forward to seeing the guys tear it up on their Rolf Prima wheels."
The Professional Team will be racing on The Blue Norcross SL a virtual lugged T-800 high modulus carbon frameset weighing in at a feathery 1000g (MD). The Blue Norcross line features include BB30, tapered headtubes and beefy carbon forks making for a stiff and powerful ride. Rolf Prima will be putting the team on their new 38CX, a 1235g tubular wheel set that was designed just for cross with its reinforced rim and spoke count of 16/16.. Rolf Prima's proprietary 38mm carbon rim offers superior lateral and torsional stiffness for all the power you can put into it while the fiberglass impregnated brake sidewalls improve braking and durability. From Roddy, ""The team has been training on our ECX and VCX alloy tubular models and using them for raceday as well. Designed with a wide and deep rim section, it is a great go-to option for training and racing."
The cyclocrossracing.com Grassroots Team is open to any category racer and currently has members all over the US and a small, but growing contingency in Canada. Riders selected will receive discounts on Blue cross bikes, Rolf Prima Wheels, team kits from Hincapie Sportswear and receive discounted access to any product on Cyclocrossracing.com. To be a part of the team, email team@cyclocrossracing.com.
About CyclocrossRacing.com: Launched in September 2010, CyclocrossRacing.com provides high-quality specialty cycling products, information and advice to cyclocross racers and enthusiasts across the country and around the world. Like its parent company, Mountains Plus, exceptional customer service, quality products, educational content and advice are its trademark. For more information please go to http://www.cyclocrossracing.com
About Blue Competition Cycles:
Blue Competition Cycles was formed in 2004 by a group of dedicated cycling professionals, who have set out to build the best racing bikes in the world. They carefully choose the right materials, combine that with engineering expertise, add to that the knowledge that comes from decades of racing experience all to produce a frameset that is designed with one purpose in mind - create bicycles that are built to win. For more information please go to http://www.rideblue.com
About Rolf Prima Wheels:
All Rolf Prima wheel systems are hand-built in Eugene, Oregon using its numerous patents including its ground breaking paired spoke technology. Rolf Prima wheel systems were developed for top-level performance and are engineered to combine lightweight and aerodynamic performance. For more information please go to http://www.rolfprima.com
###