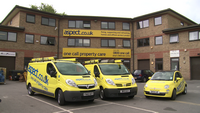 It is vital for property owners to ensure that their boilers are in proper working order.
London, UK (PRWEB) September 14, 2011
This week is first ever Gas Safety Week (12-18 September), launched by Gas Safe Register – the official list of registered gas engineers.
As an approved Gas Safe contractor for the London area, aspect.co.uk, a leading property maintenance and refurbishment company, fully supports this new initiative, and is only too keen to pass on gas safety tips to its residential and commercial customers.
William Davies, managing director at aspect.co.uk, commented: "aspect.co.uk takes pride in all aspects of its service, which includes the gas and central heating department. And – at all times – the safety of our customers remains paramount.
"As we head towards autumn and winter and the inevitably colder weather, it is vital for property owners to ensure that their boilers are in proper working order. As soon as we have our first cold snap, people will turn their boilers on; boilers that have been sitting dormant for months. Break downs inevitably occur, and the property maintenance industry experiences a huge increase in emergency calls outs."
Here, aspect.co.uk offers its top tips to ensure the smooth running and safety of your boiler. More details can also be found at: http://www.aspect.co.uk/gas-central-heating/.
-You should have your boiler serviced once every year; book this in now – to make sure the boiler is in proper working order for winter 2011-12.
-When you have your boiler serviced, it is a good idea to also consider having a powerflush done as this will revitalise the system and increase the longevity of operation. This is particularly important if you have an older system that has never been cleaned out. This method will break down and remove the iron oxide build up within the radiators and pipe work. This allows the system to reach temperature far more quickly, thereby reducing fuel costs and putting less strain on the boiler.
-You could also consider having a magnetic filter installed, either right underneath the boiler or in close vicinity. Once the system has been powerflushed, the filter will trap iron oxide – ensuring it doesn't accumulate in the system.
-A lot of older systems do not have time and temperature controls, which can clearly waste a lot of energy, and run up higher costs. Be prepared to either have these added onto a system, or invest money in a new – more energy efficient - boiler.
-If you have a boiler with a pressure gauge and it doesn't want to start up, then check you have enough water in the system. The pressure gauge should read 1-1.5 bar, and if it goes below the factory set minimum valve, it should automatically stop, to protect the internal components.
-Always fit a carbon monoxide alarm close to the boiler, and in sleeping areas also. These are inexpensive and easy to pick up at your local DIY store, and save lives.
William Davies added: "You may think that your 10-year old boiler is still working, so why change it? Well, had you considered that some of today's energy efficient boilers can provide up to 30% savings on gas bills? Upgrading your systems will not only create these savings, but will also help to avoid unnecessary call outs, or costly winter repairs."
During Gas Safety Week, aspect.co.uk is running a competition to win a free boiler service. The company is giving away one free boiler service to five residential properties within the M25. Entries must be made between 12-18 September 2011, and all work must be completed before the end of September 2011, entrants should email into competitions@aspect.co.uk – quoting 'free boiler service'.
Notes to editors
About aspect.co.uk
http://www.aspect.co.uk is a leading property maintenance and refurbishment company operating across the domestic and commercial sectors, 24 hours per day. With the tagline – 'one call property care', http://www.aspect.co.uk manages all maintenance issues, from the drains to the roof and everything in between.
The company's motto is 'fix, support and refresh':
o Fix – emergency repairs
o Support – through the company's planned maintenance team
o Refresh – through the company's installation and refurbishment team
aspect.co.uk has a fully-skilled workforce – from versatile handymen to qualified technicians, including gas engineers, plumbers, decorators and drainage specialists. The company has an impressive list of accreditations and sets new, modern, professional and award-winning standards for property maintenance.
The company uses cutting edge technology to enable its workforce and ensure best customer practice, and high levels of performance.
Founded in 2005, aspect.co.uk has grown at over 100% year-on-year. The company is based in South West London, and operates primarily across the city and all areas inside the M25. In July 2011, the company launched its nationwide franchise business - http://www.aspect.co.uk/franchise/.
###