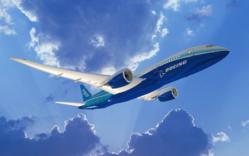 Ft. Lauderdale, FL (PRWEB) September 20, 2011
Among the titans of industry like Rolls-Royce, Panasonic, Mitsubishi, Honeywell, GE, Goodrich, and Kawasaki that have contributed to the construction of the new Boeing 787 Dreamliner is a little known, yet highly talented, custom IT company here in the US named Merlin A.I. Soft. The senior developers at Merlin were able to soar to new heights (so to speak) when awarded the contract to build the inventory management software system for the next generation airplane.
Like most other companies that have contributed to the Dreamliner, Boeing puts their potential partners through rigorous tests to verify they are qualified to meet Boeing's standards as the world's largest aerospace company and leading manufacturer of commercial jetliners and defense, space, and security systems. While completing their final test, the senior developers at Merlin identified a bug in the Boeing test software. They not only reported the bug to Boeing, they offered a solution that resolved the issue.
The Boeing inventory management system was the company's largest undertaking at the time. The software system they developed tracks every part of the plane from nuts and bolts, to the wings and wheels; every piece of equipment on the plane from the seats to the pilots' gadges; and every item that comes onto the plane, including food and beverages, napkins, magazines, and more. The system also tracks all maintenance and services performed on and to the plane, oil changes, wing calibrations, and exchanges of seats and gauges, via the software's built-in preventative maintenance technology. Pretty impressive for a little known company tucked away in a sunny south Florida suburb.
Merlin A.I. Soft provides software, mobile applications, and web development, as well as SEO services. You can check them out at http://www.MerlinAISoft.com. To follow the milestones of the Dreamliner airplane go to http://www.newairplane.com/787/firstDelivery/.
###