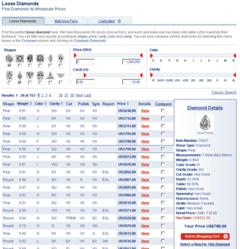 The platform saves our customers time by enabling them to find their diamond or gemstone faster without having to wait for new pages to load.
Ramat-Gan, Israel (PRWEB) September 15, 2011
The company recently unveiled a brand new search platform on its website that enables clients to easily search for the stones they want to view for purchase based on price, color, clarity and carat. The new platform was designed to put clients in the driver's seat as they search for the diamonds or gemstones they'd like to view, company officials said.
"We are constantly striving to upgrade the technology on our site to enhance our customers' experiences," said Itzhak Berman, president of Israel-Diamonds.com. "Our goal is to make sure our customers have access to the newest and most exciting platforms to enable them to browse our extensive collection of loose diamonds and gemstones quickly and efficiently."
Berman said selecting loose diamonds, loose rubies or other gemstones should be a pleasurable experience that isn't bogged down by search delays. The new platform, driven by Ajax Technology, makes this the case.
"The platform saves our customers time by enabling them to find their diamond or gemstone faster without having to wait for new pages to load," he said.
Returning customers are raving about the new platform.
"Customers are sending us very positive feedback about the technology," Berman said. "They are finding the site is much easier to navigate and its much faster for them to locate the stones they'd like to buy."
Visitors new to the Israel Diamonds site will discover the technology is available for use on all searches related to loose stones. It is very simple to use, as well.
All customers need to do is filter their searches based on their budget, the color of the stone desired, the carat weight and clarity. They can simply drag the big "red arrows" under each search parameter to see the results they want or type in their exact specifications into the search box. As customers enter their search requirements the list of available stones changes to meet their specifications. The end result is a listing of only those stones that fit a customer's unique needs.
"Our intent is to remain at the forefront of Internet technology to ensure our customers have the best experience possible," Berman said. "Every upgrade we make is designed to create a user friendly experience for all of our customers."
For more information about the new technology or Israel-Diamonds, visit the company online at http://www.Israel-Diamonds.com.
About Israel-Diamonds.com
Founded in 1989, Israel-Diamonds.com is owned by Stargate Cyber Trading Ltd and is considered a leading diamond manufacturer. The company has more than 40 years of experience in the diamond, colored stone and jewelry industries. Through its website, Israel-Diamonds.com offers buyers worldwide access to exceptional pieces of fine jewelry, diamonds and gemstones. The company also provides its clients the ability to create their own jewelry, starting with premium wholesale loose stones.
###