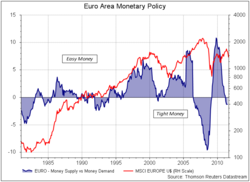 "The euro is currently overvalued by about 20% against the US dollar." – Mark Dodson, CFA
Nashville, TN (PRWEB) September 13, 2011
Mark Dodson, CFA, Director of Research at Hays Advisory, suggests that leaders of the Eurozone should highly consider increasing monetary liquidity within the region. Dodson suggests that despite what you may have read recently, monetary policy grew too tight within the Eurozone in March and April of this year.
In a measurement that gauges money supply versus money demand for the euro (see chart), Dodson recently witnessed a negative shift in the indicator suggesting that monetary conditions are still too tight today. Furthermore, he explains that when this indicator turns negative, it almost always precedes stock market weakness and/or recessions in Europe.
By his calculations, Dodson finds that "the euro is currently overvalued by about 20% against the US dollar," and he believes that the value of the currency needs to be brought down if leaders are serious about wanting to save that currency.
To sum up his point, Dodson states, "Policymakers can have those structural discussions about the euro, like fiscal integration, but right now that's a little like worrying about how to rebuild your engine while you are riding on four flat tires. Buying tires (providing more liquidity) seems like the no-brainer here." Overall, Dodson believes that if the ECB wants to save the euro, it is going to have to hold its collective nose and buy the sovereign debt that others don't want, plain and simple.
About Hays Advisory, LLC
Hays Advisory produces stock market and economic analysis for individual and institutional clients that is both widely followed and internationally recognized. Subscribers may gain insight from Hays' disciplined, unemotional approach and a better understanding of the factors that are driving long-term market trends.
In addition to providing research, Hays Advisory manages an assortment of investment portfolios focused on domestic, international, and global equities, along with two new portfolios that seek consistent returns and downside protection by investing across multiple asset classes.
At the core of the research and asset management business, is a time-tested tactical asset allocation model. This disciplined approach is designed to move more assets away from stocks when the model indicates higher market risk and allocate more assets to stocks while in the early stages of the up cycles.
###