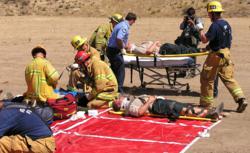 The realism of the simulation was impressive. It gave everyone participating a true sense of what a major disaster would look like, and how people need to respond and work together.
James Tilton, Assistant Director of Studio Security, Fox Studio
Encino, CA (PRWEB) September 15, 2011
Business Contingency Group will host the Transit Crisis Management Tabletop Exercise with a Live Demonstration Training Session during APTA's EXPO 2001 (running October 3-5, 2011) in New Orleans.
Participants in the training session will experience a real-time, hands-on disaster scenario that includes Bus, Light Rail, Heavy Rail and Commuter Rail components. The session will take place on October 4, 2011 at the Wyndham Riverfront New Orleans (located at 701 Convention Center Blvd.) from 8:00am to 12:30pm.
Following NIMS guidance as well as other resources, participants will watch a disaster unfold and learn how to properly respond. Participants will experience how Incident Command Posts (ICP) out in the field coordinate with an agency's Emergency Operations Center (EOC) and County-wide EOC. This training also offers an opportunity for participants to learn from and collaborate with each other.
The training session is free of charge and includes continental breakfast and various take home materials. Registration is limited and on a first come, first served basis. To register for the training session, visit http://www.businesscontingencygroup.com/event_registration.html
Business Contingency Group will also be exhibiting at the APTA EXPO 2011 at Booth #1068.
About Business Contingency Group
Business Contingency Group (BCG) is one of the nation's leading hazard mitigation, preparedness, response and recovery organizations. BCG provides Disaster Recovery, Business Contingency, and Emergency Management Planning and Consulting Services to companies and public sector agencies. In addition, BCG has worked on Humanitarian Assistance Programs and Disaster Management Projects throughout the Carribean and Central and South America.
BCG also is a Services Associate and an Authorized VAR or WebEOC software products. In addition, BCG is the developer of the Surface Transportation Solution (WebEOC ST) and exclusive provider of WebEOC products to the Surface Transportation sector.
WebEOC® is a registered trademark of ESi Acquistition, Inc. All other trademarks are the property of their respective owners.
Media contact
Lee Goldstein
President, Business Contingency Group
18034 Ventura Blvd., #333
Encino, CA 91316
(818) 784-3736 - Phone
(818) 530-5202 - Fax
leeg(at)businesscontingencygroup(dot)com
###