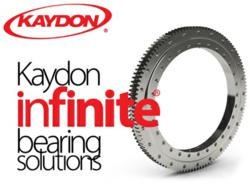 Muskegon, Michigan (PRWEB) September 14, 2011
Kaydon's booth, #3442, will feature a 'before-and-after' display of used, worn bearings compared to repaired bearings, illustrating Kaydon's remanufacturing capabilities. Kaydon repairs bearings as small as 10" (25 cm) and as large as 240" (6.1 m), regardless of original bearing manufacturer.
"Bearings repaired by Kaydon perform as new, at a lower price than a new unit, with workmanship and quality equal to or better than new," said Ron Shaw, remanufacturing manager. "We also offer new replacement bearings. Either way, we can offer reduced pricing, with a one-year warranty, and no trade-off in performance."
Kaydon is a leading designer and manufacturer of slewing ring bearings for heavy equipment applications, including tunnel boring machines, mobile cranes, aerial work platforms, excavators, utility vehicles, and tower cranes. For more information, visit http://www.kaydonbearings.com.
The ICUEE features hands-on demonstrations of construction and utility equipment, allowing attendees to operate equipment and explore new industry products and innovations. An extensive education program complements the equipment displays. To register, visit http://www.icuee.com.
Kaydon Bearings, a division of Kaydon Corporation, is the North American slewing ring bearing leader in the most demanding markets. Kaydon is also a leading global supplier of thin section and remanufactured bearings. Kaydon infinite™ solutions meet the most exacting specifications of the aerospace and defense, heavy equipment, industrial machinery, medical systems, renewable energy, and semiconductor manufacturing markets.
###