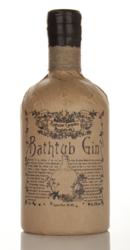 The gin harks back to Victorian times, and is produced using the finest copper pot-still spirit
(PRWEB UK) 15 September 2011
Master of Malt is proud to announce the release of Professor Cornelius Ampleforth's Bathtub Gin, a brand new small-batch spirit made in a very traditional manner.
The gin harks back to Victorian times, and is produced using the finest copper pot-still spirit, which is traditionally cold-compounded with a selection of fine botanicals including Juniper, Orange Peel, Coriander, Cinnamon, Cardamom and Clove. This process tints the gin very slightly, giving it a faint yellow hue, and results in a spirit which is bold, creamy, and extraordinarily aromatic.
Bathtub gin is made in ultra-small batches of only 30 to 60 bottles at a time, and the focus is on quality and authenticity, even when it comes to the packaging. The bottles are wrapped in traditional brown paper, with a hand-drawn print adorning the labels, and each bottle is hand-dipped in black wax to give a very fine finish. Even the flax twine used to wrap the neck of the bottle is produced using 19th century methods.
Whilst Bathtub gin is superb neat over ice, or in a Gin and Tonic, it truly excels in a dry Martini with a twist of freshly cut lemon zest.
You can buy Bathtub Gin for £31.95 from Master of Malt.
Tasting Notes:
Nose: An initially Juniper-rich bouquet is backed up with a solid backbone of rich grain spirit. Topnotes of Cardamom and Orange blossom are evident with just a suggestion of Cinnamon.
Palate: The initial Focus is Juniper, but the earthier botanicals make themselves known in the initial palate too. Mouthfeel is exceptionally viscous and creamy – this is good spirit, and it makes itself known.
Finish: The juniper subsides and gives way to the Cardamom and Cinnamon, with a late resurgence from Orange Peel.
Overall: A most unusual, but quite entrancing Gin. This is one of the only cold-compounded gins currently available.
About Master of Malt:

Established in 1985
One of the UK's leading Online Spirits Merchants, with a huge range of whiskies, rums, brandies, gins, cocktails and other fine spirits.
UK Next Day Delivery from £6.95
Follow Master of Malt

On Twitter: @MasterOfMalt
On Facebook: MasterOfMalt
###