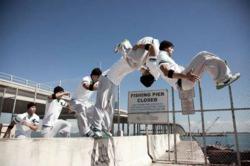 With more than 100K Facebook fans and thousands of Youtube video, freerunning and parkour are some of the fastest growing sports we have seen in years.
Miami, FL (PRWEB) September 14, 2011
Athletes leaping, jumping and hurling across urban landscapes have become an integral part of recent movies, TV shows and video games, but the seemingly impossible acrobatics is in reality a sport called "Freerunning" or "Parkour." An organization based in Miami, Parkulture, plans to assemble amateur freerunners in the first international Freerunning competition to promote the sport, youth fitness and international goodwill.
Scheduled for March 16-18, 2012, the Cross Urban Scramble and Parkulture Festival will be a three-day event catering to sports fans and families. "Based on our 100K+ Facebook membership, 79% of our demographic is 13 - 24 year old males, so it's important for us to create a family friendly event," notes Adrian Gonzalez, President, Parkulture, Inc. "Competition is central to the event, but the Festival will offer families first-hand experience with demos as well as entertainment with national pavilions, concerts, films, video games, food and green vendors."
Qualifiers for the competition are online, via Parkulture's Facebook page. Over 400 entries have already been received from over 70 countries. "We are amazed by the response with entries from Mexico City all the way to Moscow," remarks Roch Nakajima, Vice-President of Parkulture. "We are excited to bring together over 100 competitors from around the world--especially in a time of global turmoil when promoting understanding and tolerance to young people is so important."
Parkulture has already secured participation from some of the biggest names in Freerunning. Confirmed judges include Ryan Doyle (UK), Yoann "Zephyr" Leroux (France) and Jason Paul (Germany), all three champions of the professional Art of Motion competitions and members of the World Freerunning and Parkour Federations, as well as Brian Orosco and Victor Lopez of Tempest Freerunning, America's top freerunning team. Jean-Damiens Climonet, Acrobatic Talent Scout for Cirque du Soleil has also accepted his invitation. "It is a great honor to have a representative from Cirque du Soleil on our judging panel," says Gonzalez, "It offers a tangible link to a future career for many of the athletes."
All contestants' travel expenses will be covered by Parkulture and its sponsors. "We want anyone with talent to be able to participate and showcase their skills, regardless of their financial situation," remarks Gonzalez, "this is something that will legitimately allow us to showcase the top freerunners in the world."
A sponsorship drive has launched seeking companies focused on active, athletic youths, sports, soft-drinks, video gaming, travel, technology and related markets. "We are taking a different approach to sponsorships," says Nakajima. "We offer a one-of-a-kind value through an integrated media package that delivers viral videos, social media networking and product placement on our web show in addition to traditional event marketing."
Beyond corporate sponsors, Parkulture will also seek support from its athletes' home countries. "As an international sporting event, we want to showcase our athletes' heritage," says Gonzalez, "they will be representing their nation's colors and it is only natural that their country support them." Several embassies and national airlines have already pledged their support. "Our goal is not only to celebrate Freerunning and Parkour, but to foster global goodwill and friendship."
Parkulture, Inc is a Miami, Florida based public benefit organization dedicated to the promotion of freerunning and parkour at an amateur level. The organization is a social media based entity with online entities on Facebook, Youtube, Twitter, vKontakte and its blog parkulture.com. Founded in December 2010, the organization has over 100,000 members, a web-based TV Show and the 3-day Cross Urban Scramble competition and Parkulture Festival.
For sponsorship information, please contact Roch Nakajima at (305) 751-5085 or by email at roch(at)parkulture(dot)com.
###