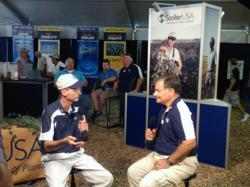 It's always a learning experience when progressive growers like Kip Cullers and Steve Albracht stop by the Stoller Booth.
Houstin, Texas (PRWEB) September 14, 2011
StollerUSA 's Farm Progress Show presence included more than the usual Stoller crop experts, research data, product information and grower testimonials. This year many accomplished growers (also Stoller customers) gathered at the Stoller booth to share information and ideas. The 2011 Farm Progress Show was held Aug. 30-Sept. 1 in Decatur, IL. Celebrating over 50 years of success, the nation's leading outdoor farm show welcomed visitors from across the world allowing them access to expertise from Stoller representatives and grower customers.
Yield contest winners from Texas and Missouri, including Steve Albracht and world soybean record holder, Kip Cullers, were at the Stoller booth to share their experiences with the media and fellow growers. Cullers emphasized the root growth and enhanced nutrient uptake as well as root nodulation when incorporating Stoller technology into his soybean crop management program. Albracht cited the challenging drought and temperature conditions which Stoller technology—both Bio-Forge and X-Cyte—helped him to effectively address and overcome on his corn crop.
"Kip Cullers, Steve Albracht and other successful growers think differently about addressing the challenges they face," noted Stoller Marketing Director, Jeff Morgan. "It's always a learning experience when progressive growers like Kip and Steve stop by the Stoller Booth. The conversations and ideas shared have a viral quality …inspiring other growers to achieve similar success by learning to think differently too."
With a surge in the acceptance and use of flagship products, Bio-Forge and Bio-Forge ST, Stoller experienced increased booth activity and input from new farmer customers in the corn belt. Enthusiasm for the stress management capabilities of Bio-Forge and the enhance pollination characteristics of X-Cyte kept traffic and interest in Stoller's booth at a record high.
"We are excited to see the growing interest and acceptance of Stoller products in the corn belt," explains Dr. Wayne Smith, General Manager of Stoller Enterprises Inc. "As we visit with farmers at various trade shows and walking grower fields, we've noticed more and more people asking about Stoller products and sharing astounding stories of increased plant health and yields through a wide range of weather conditions."
StollerUSA is dedicated to helping producers enhance yields by maximizing genetic expression. The result is enhanced marketable yield, improved return-on-investment and improved tolerance to disease and other stress. Only Stoller products contain Stoller's proprietary technology that is proven to ensure optimum plant growth by maintaining appropriate hormone balance in combination with supporting nutrients. Validated by Universities nationwide, Stoller's unique formulations result in healthier, more productive crops that are better able to withstand stress and achieve their full genetic potential.
About StollerUSA
Celebrating over 40 years in agribusiness, StollerUSA markets a full line of products to help farmers increase crop yield and quality. StollerUSA, headquartered in Houston, is actively engaged in basic and practical research to enhance crop productivity in more than 50 countries.
###