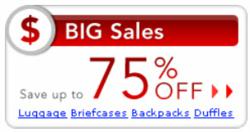 Pennsauken, NJ (PRWEB) September 15, 2011
At a time of year when discounts are most appreciated, Luggage Online (LuggageOnline.com) – the top American retailer for luggage such as backpacks, briefcases, and duffels – has announced that it will be slashing its prices even further than they already are, for a savings of up to 75% in addition to other chances to save such as with the free shipping deal.
Though this luggage retailer has already established a solid position as a leader in discounts and deals on its quality bags and travel accessories, this season, it has decided to raise the bar for savings for massive price reductions throughout the site on top products from well known-brands such as Travel-Pro, Kenneth Cole, Samsonite, Sumdex, Jan Sport, and many more.
Customers around the world know that they can rely on Luggage Online for the very best products in the top brand names and designers, but that they can also rest assured that they will always receive the lowest prices available online.
In addition to this phenomenal sale, the company also maintains its 110% low-price guarantee. This states that if a customer can find a better price than what is available on the LuggageOnline.com website, the retailer will not only match it, but it will beat it by an additional 10%. Furthermore, this guarantee doesn't stop at the purchase date, but extends a full thirty days after the customer bought the luggage. Comparison shopping has never been easier for customers, as they have a full month to follow-up on their choice.
Moreover, the savings doesn't stop at the price tag. Orders over $99 qualify for free shipping so that sale dollars can be stretched even further without any concern over what the final total will be.
Luggage Online has been providing value, quality, and savings in top products such as briefcases, duffels, backpacks, laptop bags, suitcases, and other travel accessories since 1998. Today, it offers shipping worldwide. For this reason, it is no mystery why it has received a number of recognitions and awards such as the Bizrate Circle of Excellence Award.
For more information, visit Luggage Online or contact sales(at)luggageonline(dot)com.
###