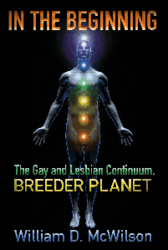 The novel provides an unforgettable tale about sexuality and humanity, told through flashbacks and present-day narrative.
San Diego, CA (PRWEB) September 27, 2011
Science fiction meets mythology in this new novel based on the premise that heterosexuality is an "extraterrestrial experiment gone wrong," with heterosexuals being used for social experiments and to colonize the harsh planet, Terra. Ancient gods such as the Olympians were actually gay people from another multi-verse, the author writes, with heterosexuality not the norm anywhere in the known verses. Moreover, magic remains among us from the time of these powerful beings, initiated by spell commands that activate subatomic computers still being created on Terra by specific plants and crystals.
In the Beginning opens with Terra and her classmates on the research station Orion, located on the edge of space controlled by the Gay and Lesbian Continuum, and ostensibly created to encourage peace and trade throughout the known Verse. Orion's real purpose is to study an ancient space artifact thought lost to time, called the Geodite. When the Geodite revives after centuries of dormancy, Terra and her family must survive what comes from the other side. Millennia ago the Geodite had ceased functioning, stopping travel to the Terran verse and stranding GLC citizens like Adonis, Athena and Merlin on Terra, leaving them to fend for themselves against the primitive barbarian Hetero race. The novel provides an unforgettable tale about sexuality and humanity, told through flashbacks and present-day narrative.
Author William D. McWilson traveled extensively as a U.S. Army dependent and while serving in the Navy. He survived as AIDS decimated friends. McWilson earned a degree from California State University, Chico, and California Western School of Law. The lawyer lives in southern California with his husband, Mike; the couple was one of the original 18,000 who were allowed to marry, until the law was changed.
For more information, visit http://www.gayandlesbiancontinuum.com
IN THE BEGINNING: THE GAY AND LESBIAN CONTINUUM, BREEDER PLANET
William D. McWilson
Dog Ear Publishing
ISBN: 978-145750-415-0 458 pages $22.95 US
Available at Ingram, Amazon.com, Barnes & Noble
and fine bookstores everywhere
About Dog Ear Publishing, LLC
Dog Ear Publishing offers completely customized self-publishing services for independent authors. We provide cost-effective, fast, and highly profitable services to publish and distribute independently published books. Our book publishing and distribution services reach worldwide. Dog Ear authors retain all rights and complete creative control throughout the entire self-publishing process. Self-publishing services are available globally at http://www.dogearpublishing.net and from our offices in Indianapolis.
Dog Ear Publishing – self-publishing that actually makes sense.
###