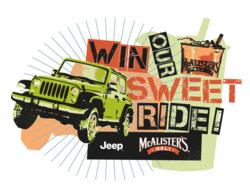 We are thrilled to have Wrangler part of such an exciting promotion.
Ridgeland, Miss. (PRWEB) September 14, 2011
McAlister's has always been known for giving back to the community and to their loyal guests, but this time they may be taking it too far. The beloved fast casual restaurant chain will be giving away not just great football tailgate packages, but the car they came in, too! From September 3rd to November 26th, McAlister's guests can enter to win one of TWO Jeep Wranglers as well as great weekly prizes like free lunch or free tea for a year. Entry forms can be submitted at any of the 307 McAlister's Delis nationwide and found at http://www.facebook.com/teafreaks. "We are thrilled to have Wrangler part of such an exciting promotion," said Al Gardner, Director of Chrysler Group LLC's Southeast Business Center. "The Wrangler is the most capable and recognized vehicle in the world and is sure to give two lucky winners the perfect ride for all of their football adventures".
McAlister's will be showing off their sweet rides at different ACC and SEC football games throughout the year, giving fans the chance to see the grand prizes up close. Each week, they will give out a few hints on the Tea Freaks Facebook page as to which games the Jeeps will be showcased and where other fun giveaways will take place. For more information, check out http://www.facebook.com/teafreaks.
McAlister's Corporation, headquartered in Ridgeland, Miss., is a quick-casual restaurant featuring efficient counter ordering, attentive table service, over 100 different high-quality, deli-style foods and great value. McAlister's was recently named one of the Best 10 Restaurants for Families by Parents Magazine for their commitment to healthfulness and choice on the menu. Currently, McAlister's Deli has over 300 restaurants operating in 23 states.
Jeep Brand
Built on 70 years of legendary heritage, Jeep is the authentic SUV brand with class-leading capability, craftsmanship and versatility for people who seek extraordinary journeys. The Jeep brand delivers an open invitation to live life to the fullest by offering a full line of vehicles that continue to provide owners with a sense of security to handle any journey with confidence.
The Jeep vehicle lineup includes Compass, Grand Cherokee, Liberty, Patriot, Wrangler and Wrangler Unlimited. To meet consumer demand around the world, all Jeep models are sold outside North America – and all are available in right-hand drive versions and with gasoline and diesel powertrain options. Chrysler Group LLC sells and services vehicles in approximately 120 countries around the world.
###