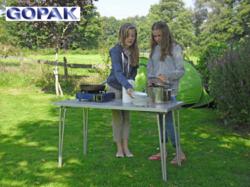 The all aluminium table can be used for numerous tasks in the home, garden and for outdoor catering
(PRWEB UK) 19 September 2011
A tough, almost indestructible yet seemingly unassuming folding aluminum table - is making history - back by popular demand thanks to hundreds of scout and guide groups across the country.
First launched by all British manufacturer and family business Gopak in 1986, this lightweight multipurpose table featured at camp sites and outdoor events until the mid-nineties when rising raw material costs meant that sales began to fall and the product was withdrawn.
Just 1,220mm x 660mm and with legs that can be folded for easy storage, the table would have remained as just another product past its sell by date had it not been for scout and guide groups who simply would not take no for an answer.
It has now been relaunched by Gopak after 25 years and hundreds have been sold already with demand increasing every day.
"Eventually we had to revisit the idea of relaunching this table and once we had sourced the right type of aluminium sheet for the top, we decided to recommence production," said marketing director Diane Ponting. "We did this with some trepidation because of the initial capital outlay but we are delighted we made the decision."
The all aluminium table can be used for numerous tasks in the home, garden and for outdoor catering. It is a favourite with Scouts and Guides because it can be used for summer camps when hot utensils can be safely placed on the table top without causing damage.
It folds flat for storage and transportation, is also ideal at home for barbecues and as a temporary potting bench and can be left outside all year round.
The folding tables sturdy aluminium frame and resistant aluminium surface mean it will literally last a lifetime, with just a quick wipe-down or hose down after use to keep it looking as good as new. And it can even be left outside or stored in a damp shed without deterioration to its appearance or performance.
Just a few of the reasons why scout and guide groups refused to let it go...
For further information, please contact Tracey Lawrence at CFA on:
Telephone: 01622 754295
Fax: 01622 758485
Email: tracey(at)cfa-group(dot)com
Notes to Editors
Gopak
Gopak Ltd., established in 1954, is now the UK's market leader in the design, manufacture and supply of lightweight aluminium framed folding tables.
The company offers a wide selection of table and chair ranges to suit numerous occasions and is committed to ensuring both a quality product and service.
All Gopak's folding table and stacking benches are manufactured to BS EN ISO 9002:1994 for Quality Assurance and come with a five year guarantee.
For further information on Gopak's range of products visit http://www.gopak.co.uk
# # #