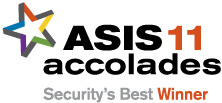 Laipac Technology, Inc. the global leader in GPS tracking
Richmondhill, Ontario, Canada (PRWEB) September 16, 2011
Laipac Technology specialises in the design and production of real time GPS location tracking products. The S-911 Vest, is a GPS live tracking vest with functional body armour impact system designed for tactical law enforcement and VIP personnel. It is the invisible eye for the Commander during critical missions. It provides automatic GPS tracking position, time, impact and breadcrumb trail for mission analysis and response. The vest is comprised of DuPont Kevlar material which is flexible, lightweight with Ballistic Protection and armour plate standard Level of NIJ which offers the best possible protection.
The ASIS Accolades value-add awards program recognizes the most innovative new products and service solutions that will be exhibited at ASIS 2011. A team of judges representing end users and experts in security technologies evaluated more than 70 entries before selecting the top 10 winners. Laipac have been invited to display their products in a special area on the Exhibits floor (Booth #2381, Hall B) and highlighted at the awards presentation on Monday, Sept. 19 at 1:45 p.m. in Room W315 AB. See Laipac Technology Inc. exhibit at booth #877; ASIS International, Orlando Florida, Orange County Convention Center.
About Laipac Technology Inc.
Laipac Technology, Toronto Canada is a leader in the development and manufacturing of a world-class GPS location and tracking products allowing customers to improve productivity by enabling the effective management of their vehicles, mobile workers, assets, goods and services. Laipac's latest telematics technology provides innovative solutions to make our community a safer place for the lone worker, security, healthcare, parole and asset monitoring. For further information please visit, http://www.laipac.com or contact sales(at)laipac(dot)com.
# # #