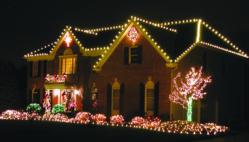 Let us all have our military families in our hearts and minds this coming Holiday Season. Bill Cowley of Christmas Decor By Cowleys
Neptune City, NJ (PRWEB) September 15, 2011
Santa's elves are not the only ones who are getting ready for Christmas. Much closer to home, Christmas Décor by Cowleys is sponsoring its ninth annual Decorated Family Program to spread some holiday cheer to those who truly deserve it, our local military families who everyday show us all what true sacrifice really means.
More than 100,000 American men and women deployed overseas this holiday season leaving their families behind. These families, without their loved one, do their best to prepare for the holidays, trying to make the best of a difficult situation. Said Bill Cowley of Christmas Decor by Cowleys, "Children of military families are under the constant strain of parental separation. Many children are too young to understand why their mommy or daddy is away. When we support our local military families, our goodwill travels across the globe, boosting the morale of our dedicated soldiers." For almost a decade, Christmas Décor has given something back to the families of these brave men and women, making the Christmas season for our military children just a little bit brighter.
The creation of a Decorated Family Program started in 2005 from a simple event that takes place across the globe in millions of households, the holiday dinner party. A Christmas Decor affiliate met a military family with the conspicuous absence of their father. This became a call to action. He started this holiday decoration initiative that is now in its ninth season spreading across the nation through the many Christmas Decor affiliates. "Decorating a home is a heartfelt thank you to our country's soldiers. More important, it is something real and tangible to the kids. For those few weeks, they can try to enjoy Christmas like every other kid on the block" Said Cowley.
Today, it has become a tradition for the Cowleys family to donate the use of their products, resources and time to this worthy program Do you know a deserving military family? Just fill out a simple nomination form available on the Christmas Décor page on facebook. Families are selected based on their unique and particular circumstances as well as their location since they need to be near a local franchise. Christmas Decor is seeking to attract hundreds of nominations that result in decorating at least 200 homes for the 2011 holiday season.
The deadline for nominations is November 11th, 2011. For more information about the Decorated Family Program please visit the Christmas Decor's Website. For more information about Christmas Décor by Cowleys, visit Christmas Decor by Cowleys.
Christmas Décor by Cowleys is part of the largest professional holiday and event decorating franchise. The company offers a complete decorating service program including display design, installation, maintenance, and removal of holiday lighting and decorations. To learn more about the Decorated Family Program, please contact Bill Cowley of Christmas Décor by Cowleys at 866-9-COWLEY.
###