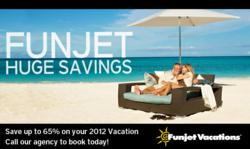 Milwaukee, WI (PRWEB) September 22, 2011
According to travel industry experts, consumers may be better off locking in travel prices and packages for 2012 now. With price volatility and limited inventory, as well as more U.S. travelers anticipated to travel next year, it's the right time to book prices, preferred travel dates, flights and hotels.
To help, Funjet Vacations launched an Early Booking Bonus sale Friday with savings up to 65% on vacation packages to Mexico, the Caribbean and Hawaii, as well as other popular destinations. The sale is for bookings made with Funjet Vacations September 9-29, 2011 for travel in 2012..
Why book travel for 2012 now?

Fuel prices are volatile and airline prices could go up any time. Fuel accounts for as much as 40 percent of airline costs and airlines succeeded in hiking prices seven times out of 12 attempts this year so far, compared to just three attempts in 2010.
More people are expected to travel in 2012, creating competition for preferred travel dates and hotels. According to the 2012 industry forecast by ADVITO, a travel consultant group, airfare will likely rise worldwide in 2012, with demand increasing and airlines still holding capacity. "In general, airlines have been slow to restore capacity," said the report.
With hotel occupancy improving, customers have to book early to secure desired rooms and travel dates. The Air Transport Association (IATA) reports the hotel industry continues to see rising occupancy, while, according to ADVITO's forecast, hotels are expected to continue to raise rates, approximately 2-6 percent.
With Funjet's Early Booking program, when consumers book their vacations further in advance, they will receive huge savings on a large selection of inventory. Plus they're the first to find the best available flights and rooms. Air and hotel vacations for 2012 can be reserved for as little as $50 down per person when booking through a travel agent.
Whether traveling during the holiday season or in 2012, Funjet Vacations encourages customers to take advantage of Funjet Vacations' travel protection for peace of mind in the event of the unexpected. Travel protection gives comfort should travelers need to cancel or postpone a trip. Plus it offers cash back, no fees to change a reservation, a price guarantee and it provides medical, baggage and emergency coverage throughout the trip. This protection package can be added as an optional feature to any vacation package during the booking process.
For more information and to book a vacation through Funjet, contact a recommended travel agent at 1-800-FUNJET-1 or visit http://www.Funjet.com.
About Funjet Vacations
Founded in 1974 and headquartered in Milwaukee, Funjet Vacations specializes in providing vacation packages filled with exceptional value and "The Best Experience Under the Sun." As the flagship brand of the family-owned Mark Travel Corporation, Funjet Vacations is a top resource, offering travel agents nationwide outstanding personalized service and customer care. Individual and group Funjet vacations are nonstop charter flights and scheduled airlines to hundreds of destinations including Mexico, the Caribbean, Las Vegas, Hawaii, California, Florida and Europe. For added value and convenience, travelers can choose from air-inclusive, hotel-only or air-only vacations and add tours, attractions, shows and more to their vacation package. Funjet Vacations is a member of the American Society of Travel Agents, Tour Operator Program, and United States Tour Operations Association. For more information visit http://www.Funjet.com.
###