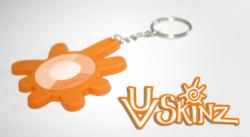 Sonora, CA (PRWEB) September 13, 2011
UV Skinz, one of the first companies to design and manufacture sun protective wear, was started after founder, Rhonda Sparks, lost her husband, Darren, to melanoma, the deadliest form of skin cancer. On September 14, 2011, UV Skinz is honoring the 10-year anniversary of Darren's passing by giving away free ultraviolet (UV) detector key chains.
"I cannot think of a better way to honor my late husband than by educating people about the sun and by protecting tens of thousands of people each year with our UV Skinz products", states Rhonda.
The special UV detection keychain, in addition to the company's wide array of sun protective clothing and accessories, enables UV Skinz' customers and friends to live sun safe, while never forgetting how important it is to LIVE and HAVE FUN outdoors. A user only needs to expose the key chain to sunlight for 10 seconds and compare the color scale on the front to find the level of UV radiation. The darker the color on the keychain signifies the strength of the UV intensity and the need to adjust sun protection accordingly. Rhonda says, "Like everything we try to do for our customers at UV Skinz, the keychain is just another tangible means of raising consciousness for the need for proper sun protection." Anyone interested in receiving a free keychain should visit UV Skinz on Facebook (http://www.facebook.com/uvskinz) on Wednesday, September 14, 2011, as supplies will go fast.
UV radiation from the sun is the number one cause of skin cancer. In addition, excessive exposure to UV radiation from the sun may result in sun burn, eye damage and premature aging. It is also important to point out that the end of summer does not mean lower risk. Exposure to sunlight during the winter months puts people at the same risk as exposure during the summertime.
"If we can keep one sun burn from happening, then Darren's life and our efforts are all worth it," states Rhonda.
About UV Skinz
UV Skinz is a leading provider of UV protective clothing, swim shirts and accessories for the entire family. By providing the highest quality and hippest designs at competitive prices, UV Skinz aims to make sun protection effortless. For more information about UV Skinz, go to http://www.uvskinz.com or call 1 (877) 887-UV SKINZ.
For interviews, UV Skinz product samples and/or jpg photos, please email lindsay(at)uvskinz(dot)com or call 1 (877) 887-5469.
###