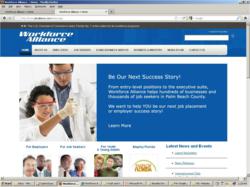 "An online resource with the employment-related information that businesses need," Steve Craig, Interim CEO
West Palm Beach, FL (PRWEB) September 13, 2011
Workforce Alliance, the nonprofit organization chartered by the state of Florida to create and lead workforce development in Palm Beach County, has launched a new website to make it faster and easier to connect businesses with talent. Designed for employers, job seekers and business owners, the new website (http://www.pbcalliance.com) is a valuable resource for companies that are seeking to expand and prosper, people who are looking for work, and anyone interested in learning about the Palm Beach County labor market.
The new website has facts for companies that want to know about the wide range of services to help give businesses the edge in today's competitive economy. These no-cost services include recruitment, assessments and referrals of qualified job candidates, grants for training new or existing employees, and outplacement assistance.
Job seekers also will have helpful information about the services that are provided at the three Workforce Alliance Career Centers and two Executive Transition Units. The centers offer free workshops and other resources for job search and job skills training, career development and consulting. Special sections and links are available on the website for youth and young adult programs, Native Americans, veterans, people with disabilities, and executives who are looking for work.
An area of the website that has facts and statistics about Palm Beach County will be of interest to government and civic organizations, as well as the county's emerging industry clusters. In addition to local market data and reports, the site includes links to occupational data, economic statistics and other resources.
The website also offers areas for public notices, grants, partnerships, business opportunities with the organization, a newsletter for employers, press releases and annual reports.
"We're pleased to offer Palm Beach County businesses and job seekers an online resource that has the employment-related information they need," said Steve Craig, Workforce Alliance's interim chief executive officer. "The goal of this website is to help businesses with their talent acquisition, retention and training needs, and those who are looking for work to enter or re-enter the job market."
For more information about Workforce Alliance, visit http://www.pbcalliance.com.
###