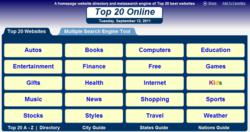 What is the best way to process information on the internet?
Columbus, Ohio (PRWEB) September 21, 2011
Google has recently abandoned its internet directory, giving the opinion that directories have been surpassed by search engines. Those at Top 20 Online, a product of a Columbus, Ohio company, strongly disagree. They contend that a humanly aggregated directory still appears to be a better way of information processing on the internet for such categories as education (top20education.com), kids (top20kids.com), and many others.
Twenty such general categories and over 700 domain names are all included in a newly formatted general internet directory, Top20online.com. The format is particularly designed for touch screens on tablet devices such as the iPad. The websites also include, as an alternative, a multiple search engine reference tool, which includes not only 14 different search engine references, but links to images, videos, blogs, news, and other directories on any topic. Top 20 Online also attempts to be family friendly and does not collect or sell information. It is also designed to be a home page.
The founder of Top 20 Online, James H. Rutherford, M.D., started with the simple question, "What is the best way to process information on the internet?" The problem used to be access to information. The problem now is information overload and how to be selective. The Library of Congress, for example, has over twenty-five million books, but most people will not read more than five feet of such bookshelves in their lifetime. A search result of 5,000 links is also information overload. The premise of Top 20 Online is that a humanly selected list of top 20 websites is often more desirable and more useful.
###