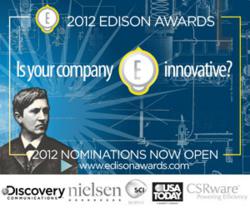 With Green technologies and sustainable solutions playing a large role in the redevelopment of Main Street, USA, the Edison Green Award™ recognizes an organization's commitment to developing sustainable solutions and Green business models
San Francisco, CA (PRWEB) September 15, 2011
CSRware, a recognized leader in cloud-based Sustainability Resource Management (SRM) software with modules focused on Energy and Sustainability Management and Sustainable Supply Chain, announced today that the Edison Awards will run The Edison Green Awards program on the CSRware software platform. Utilizing the CSRware technology, nominees for the annual Edison Green Awards will have the opportunity to baseline and track their company's ability to reduce carbon emissions, create Green Collar jobs and to reduce their societal impact. The new partnership will allow the Edison Awards Steering Committee and its strong community of innovators a collaborative mechanism to compare marketplace innovation against an established green compliance criterion to determine the winners for the program.
Clients such as Bloomberg, Juniper Networks, and The State of California (Department of Corrections and Rehabilitation) who have implemented comprehensive energy and sustainability management programs work with CSRware to improve efficiencies and drive down costs across internal operations and the supply chain. To address demand around green technologies and sustainable solutions, CSRware and the Edison Awards will now be able to deliver a comprehensive solution to verify actions taken by nominees to earn them the ability to be recognized with a prestigious Edison Green Award™.
The Edison Awards were established in 1987 to honor Thomas Edison's wide-ranging contributions to technology and consumer products, as well as to inspire and foster continued innovation. The Edison Green Award™ is designed as a platform to recognize efforts to reduce participating community's carbon footprint, create Green Collar jobs through new innovation methods and improve community health and self-sufficiency.
"With Green technologies and sustainable solutions playing a large role in the redevelopment of Main Street, USA, the Edison Green Award™ recognizes an organization's commitment to developing sustainable solutions and Green business models," said Tom Stat, Chairman of the Edison Awards Steering Committee. "We're excited to be working with CSRware because of the tremendous value it will provide to our Green Award nominees and community of contributors."
"There are a lot of natural synergies in this partnership," said Karen Alonardo, CSRware's Founder and CEO. "The Edison Awards program is an especially good fit for us as it focuses on innovative solutions to improve how we do business and share community resources. We look forward to expanding our offering to the Edison Awards community where there is growing interest and a need for products like ours," she continued. "We are also attracted by the depth and breadth of the Edison Awards experience and thirst for creative ideas. The insights brought to us by the Edison Awards experience will help us further refine and expand our offerings."
About CSRware®
Since 2006, CSRware has been helping organizations better understand, account for and optimize resources, reduce costs and measure environmental impact. Our cloud-based software suite is used by leading companies to effectively prioritize, manage and report on their resource efficiency, carbon management and sustainability initiatives for internal operations and across the supply chain. CSRware offers modules on Energy & Sustainability Management (ESM) and Sustainable Supply Chain (SSC). Delivered through any web browser, our solution provides the tools required to maximize the effectiveness and ROI of corporate sustainability programs. For more information, please visit our website: http://csrware.com.
Media Contact: Thom Hayward
CSRware®
1-855-277-9273 (CSRware)
pr(at)CSRware(dot)com
About the Edison Awards™
The organization annually recognizes new product and service innovation through its Edison Green Awards™ and Edison Best New Product Awards™. Sponsors and partners of the Edison Award include The Nielsen Company, Discovery Communications, Science Channel and USA Today. Nominations for the Edison Best New Product Awards™ and Edison Green Awards™ will be accepted beginning September 1, 2011. Visit http://www.edisonawards.com for more information.
###