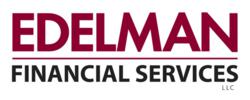 The addition of Sarah helps us deliver best-of-class service to our clients, and we are very happy she has joined us
Fairfax, VA (PRWEB) September 14, 2011
Edelman Financial Services LLC, one of the nation's largest and fastest growing financial planning and investment management firms has named Sarah Kenney as Director of Communications.
In her previous role, Kenney led communications and media relations activities for the Mid-Atlantic Region of Whole Foods Market. During her tenure, the region doubled in size to 35 stores and $1 billion in annual revenue.
"We are committed to acquiring outstanding talent and not afraid to do so from outside the financial services industry," said Chairman and CEO Ric Edelman. "The addition of Sarah helps us deliver best-of-class service to our clients, and we are very happy she has joined us."
"As a communications professional, it is so gratifying to join a firm that has such a stellar reputation for client service," Kenney said. "I am excited to support the firm's efforts to serve its clients."
Kenney holds B.A. and M.A. degrees in Communications from the University of Virginia. She will be responsible for directing the company's internal and external communications efforts in support of the firm's nationwide expansion.
About Edelman Financial Services
Edelman Financial Services provides financial planning and investment management services for individuals and families, as well as 401(k) plans and institutional investment management for businesses. The firm is headed by renowned financial advisor Ric Edelman, twice named the #1 independent financial advisor in the nation by Barron's*. His television series The Truth About Money with Ric Edelman airs on Public Television stations across the country, and his syndicated radio program can be heard in more than 45 markets. He is also a sought-after speaker, and best-selling author of seven books. For investment advice and other financial planning services, or to speak with an advisor call 888-PLAN-RIC (888-752-6742), or visit RicEdelman.com.
Ric Edelman is Chairman and CEO of Edelman Financial Services, a Registered Investment Adviser, and Co-CEO, President and a Director of The Edelman Financial Group (NASDAQ: EF). He is an Investment Adviser Representative who offers advisory services through EFS and a Registered Principal of (and offering securities through) Sanders Morris Harris Inc., an affiliated broker/dealer, member FINRA/SIPC.

Barron's ranking "Top 100 Independent Financial Advisors" (Aug. 28, 2010/Aug. 31, 2009) based on the quality of the advisors' practices, including client retention and compliance record, contribution to the firm's profitability, and the volume of assets overseen by the advisors and their teams.
###