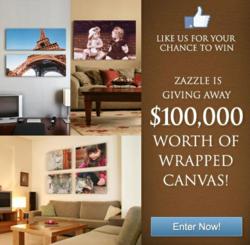 With the recent launch of the wrapped canvas product, we wanted to share with the world our high-quality products and amazing technology – what better way to do that than by letting people sample it for free
Redwood City, Calif. (PRWEB) September 14, 2011
What happens when two cutting-edge, social media-loving companies team up for a social media giveaway? Answer: free custom wrapped canvas art delivered to your door. Starting today, Zazzle kicks off the $100,000 Wrapped Canvas Giveaway featuring Zazzle's wrapped canvas products, powered by Wildfire Interactive's Social Marketing platform.
Zazzle offers millions of the world's most recognized art pieces, and the most advanced customization technology for personal art and photography. Using Wildfire's award-winning platform, Zazzle will give away 8x10 Wrapped Canvas Prints every day for 20 days to Facebook's community of 150 million U.S. members, simply by "Liking" Zazzle and sharing the promotion with friends.
"With the recent launch of the wrapped canvas product, we wanted to share with the world our high-quality products and amazing technology – what better way to do that than by letting people sample it for free," said Jason Kang, Zazzle VP of marketing. "Partnering with Wildfire is the perfect way to share this opportunity through social media – together we're adding a social layer to our vision of enabling the world to express its creativity, and we love it."
"By embracing social media, businesses can deepen their relationship with their existing customers and reach new consumers via social sharing. Using Wildfire's platform to give away wrapped canvas prints, Zazzle has the opportunity to build deeper connections with art and photography enthusiasts and to encourage their global community to create personalized artwork to share with friends," said Victoria Ransom, Wildfire CEO.
For more information about the promotion and how to enter, visit http://www.Facebook.com/Zazzle, and head to Zazzle for more information about the world's highest-quality Wrapped Canvas Prints.
About Zazzle
Zazzle is the world's leading platform for quality custom products. Zazzle's proprietary technology enables individuals, professional artists and major brands, including Disney and Hallmark, to create and offer billions of unique products for customers worldwide. Zazzle's rapidly expanding product base covers every topic imaginable and includes t-shirts, business cards and invitations, in addition to a variety of custom gifts. Upon creation, products are instantly and accurately visualized on the site and offered in the Zazzle marketplace. When ordered, each product is made on-demand, typically within 24 hours. Launched in 2005 and based in Redwood City, California, Zazzle's vision is to redefine commerce, powered by the world's imagination.
About Wildfire Interactive
Headquartered in Redwood City, California, Wildfire is the leader in social media marketing software and the only social media marketing company to have received an investment from Facebook's fbFund. Our patent-pending technology allows large brands, small businesses and agencies to easily create their own attractive, branded social campaigns (e.g., sweepstakes, contests, giveaways, coupons and more), build and manage social pages, monitor and communicate with their social audience and measure the performance of their own and their competitors' social media marketing. Intuitive, streamlined and affordable, our software is simple enough for even the least tech-savvy business manager to use and flexible enough to suit the needs of the most creative marketer or advertising agency. Wildfire serves tens of thousands of companies, including Facebook, Amazon, Ogilvy and Target, and has offices in Redwood City, Los Angeles, Chicago, New York, London, Sao Paolo and Singapore.
###