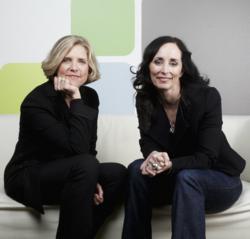 "RI:30 is our way of giving another female business owner a jump start on her future. I could only image what this opportunity would have done for Resource Interactive in its early years." - Nancy Kramer, Founder
Columbus, OH (PRWEB) September 14, 2011
Do you know a female entrepreneur whose business could use a digitally-fueled marketing makeover? For three decades, Resource Interactive has created ground-breaking consumer-driven online experiences for Fortune 500 companies like P&G, Limited Brands, and Nestlé. And to celebrate the agency's 30th anniversary, Resource Founder and Chief Culture Officer Nancy Kramer and CEO Kelly Mooney are seeking a new company to add to its 2012 roster. On Sept. 24, Resource will launch RI:30, an opportunity for one female-owned business seeking a robust digital presence to work together with Resource Interactive's digital experts for free for up to one year. The lucky winner will work side-by-side with the same experts who guide the digital strategies of some of the world's most recognizable brands, and Resource will help create a custom digital experience just for her company that will propel her business into the digital stratosphere. RI:30 is Resource's unique way to give back and to say thanks.
"When I look back on when I started the business in 1981 with Apple as my first client, I was very excited about this rapidly growing industry, but I also had a lot to learn about running a business. I owe much of my success to the many mentors, clients, and friends who have guided me along the way," says Kramer. "RI:30 is our way of giving another female business owner a jump start on her future. I could only image what this opportunity would have done for Resource Interactive in its early years. We want to help her achieve her vision and goals through digital strategy and tactics."
RI:30 is the opportunity of a lifetime for any female business owner and the process to enter is simple. Just "like" Resource Interactive on Facebook and complete a form, questionnaire, and submit a video featuring your company. Resource Interactive associates judging the entries will look for companies that already have a basic digital presence, have a business that would benefit from digital strategies and tactics, and is passionate and open to what digital strategies and tactics can bring to a business.
"We want to help another female entrepreneur reach her potential as a business leader so she can see her business evolve and grow for decades to come, just like Resource," says Mooney. "By applying our thought leadership and consumer insights, we'll be able to build a strategy that presents business opportunities today, and could potentially open new growth opportunities in the future."
The deadline to enter RI:30 is Nov. 23, 2011. The winner will be announced January 2012.
About Resource Interactive
Resource Interactive is one of the nation's top-rated independent digital marketing agencies – named No. 4 on Ad Age's A-list of top agencies in 2010. With offices in Columbus, Cincinnati and Palo Alto, the firm leads Fortune 500 companies and helps them capitalize on today's digital economy, creating consumer experiences that drive sales for reputable brands. Now in its 30th year, Resource is the largest women-owned agency in the nation. Clients include Procter & Gamble, Hewlett-Packard, Victoria's Secret, Sherwin-Williams, and Nestlé.
###