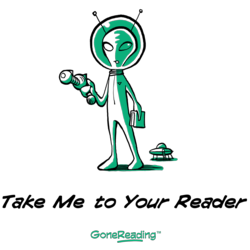 "By selling gifts for readers we're tapping into the power of commerce to accomplish our philanthropic mission." - Brad Wirz, Founder of GoneReading
Severna Park, MD (PRWEB) September 15, 2011
GoneReading founder Brad Wirz had no intention of selling anything, let alone a line of gifts for readers, when he quit his 20-year career in marketing to launch a philanthropic startup. "I assumed the only way to fund meaningful change was by collecting donations. I was wrong," said Wirz.
"I learned early on that it's very difficult to persuade people to donate money. But while sitting in the mall one day during a recession-plagued holiday season, it occurred to me that people really love to shop," continued Wirz.
Following this epiphany, Wirz used his marketing background to create GoneReading, the lifestyle brand of gifts for readers. "Book lovers and bibliophiles are successful, college educated, high-earners that love to shop. By providing them with high-quality gifts that speak to them, we're tapping into the power of commerce to accomplish our philanthropic mission. A lot of our shoppers don't even know that GoneReading is a philanthropic enterprise, and that's OK," added Wirz.
GoneReading's line of gifts for readers consists of original designs, each available on a wide variety of bags, aprons, drink ware, t-shirts, baby apparel and pet products. New products are being added almost weekly. "Wirz added that "The goal is to become the one-stop-shop of gifts for book lovers around the world".
Wirz decided to launch his startup during a volunteer trip to Honduras in 2010, where he worked alongside others to help construct the region's first library. "Hundreds of villages, thousands of people, had no access to books or reading materials at all. That just blew my mind," said Wirz.
GoneReading launched earlier this year, following months of research and product development. "From the very beginning we set out to create something brand new for book lovers. Our gift selection is totally unique, a collection of gifts for readers that can't be found anywhere else," said Wirz.
About GoneReading and Gone Reading International, LLC:
GoneReading is the world's only lifestyle brand of gifts for readers and book lovers that donates all year-end profits to fund new library construction in the developing world. GoneReading is a registered trademark of Gone Reading International, LLC.
###