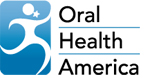 Lower income families have a difficulty accessing oral health resources ...
Chicago, IL (PRWEB) September 14, 2011
More than one-third (35%) of Americans who regularly visit the dentist have cut back, according to a recent public opinion survey conducted by Oral Health America (OHA), a national non-profit organization. At the same time, parents are needing more information about effective preventive care.
"In today's economy, Americans are delaying their oral health care," shares Beth Truett, President & CEO of Oral Health America. "Lower income families, in particular, have a difficulty accessing oral health resources yet have the desire to provide better care for their families."
For parents, the biggest knowledge gaps are related to dental sealants, braces and tooth friendly foods. Forty-three percent of parents surveyed say they are not very or not at all knowledgeable about dental sealants, and thirty-two percent say they are not at all or not very knowledgeable about braces. About one-quarter of parents (26%) say they are not knowledgeable about tooth friendly foods.
OHA is proud to partner with Smiles Change Lives (SCL), a national charity that helps low-income families' access affordable orthodontic care for their children. "We've seen a huge increase in the number of families applying for assistance through Smiles Change Lives," shares Dr. Kelly Toombs, SCL National Board member and SCL orthodontist from Prairie Village, KS.
"This survey further reinforces the need for an organization like SCL which finds the children who may be falling through the cracks and assist families in getting braces for their kids," adds Dr. Toombs. "More importantly, braces correct not only the appearance of teeth, but align the teeth correctly to prevent tooth loss and tooth decay for a lifetime."
With immediate openings nationwide, SCL is seeking applicants who meet the following criteria:
-Ages 10-18 with good oral hygiene
-Have crooked teeth and/or misaligned jaws
-Taxable family income is at or below 200% of Federal Poverty Guidelines
For application information, please visit http://www.smileschangelives.org/apply or call 888-900-3554 to obtain information via mail. Parents and guardians are encouraged to visit http://www.smileschangelives.org/qualify to review financial qualifications for the program.
Smiles Change Lives is an Oral Health America Fall for Smiles® partner. The Fall for Smiles campaign aims to remind policymakers and the public about the importance of dental self-care, regular dental visits, healthy food choices and avoiding tobacco products. Fall for Smiles runs through the end of October. For more information about Oral Health America and Fall for Smiles visit http://www.oralhealthamerica.org.
###