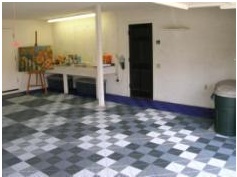 You and your family may find yourselves spending more time in the garage once flooring is installed. -- Dave Angers, Product Director for Tailored Living.
Orange, Calif. (PRWEB) September 15, 2011
Tailored Living announced today that it will offer two types of garage flooring to its customers. Garage flooring options lets homeowners improve the aesthetics of the room, making it more livable, durable and attractive.
"Flooring makes the garage look more finished and aesthetically pleasing," said Dave Angers, Product Director for Tailored Living. "You may just find that you and your family start spending even more time in the garage."
More and more garages are being asked to do double or triple duty in the home. Cars go there. The kids use them to play in during inclement weather. And maybe there's a workbench with storage.
Many homeowners invest in garage storage systems, but the finishing touch is adding a durable garage floor coating to transform the garage from a big, dark, clutter catching extra room into a clean, efficient living space.
Tailored Living offers two garage flooring styles: Garage Floor Coating and Flex Tile flooring. Each offers a unique look.
Tailored Living's garage floor coating is made of durable industrial resins by Sika Corporation, the global leader in industrial floor coatings. The flooring hides existing stains and resists future stains.
The finish cures two times harder than other garage floor finishes, so it will stand up to hot tires and abrasion without chipping or peeling.
Lastly, the flooring will cure within 24-48 hours, depending on local weather conditions, so you can use your garage more quickly. Similar flooring options from competitors take a week or longer to dry completely, leaving you without access to your garage during that time.
"This floor coating is available in solid or decorative chip styles and in a variety of colors to coordinate with the cabinets and shelving in your garage storage system," said Angers.
Tailored Living's flexible garage tiles offer an attractive alternative to the resin floor coating.
The innovative design allows water to and other liquids to drain through to keep homeowners safer in their garages. Additionally, the flexible tiles absorb and distribute force from a dropped tool or weight that will protect your floor from chipping. The flow-through design and energy absorption makes flexible garage floor tiles an ideal flooring solution in residential and commercial applications, such as: garages, workshops, showrooms, airplane hangars, exercise rooms, kids rooms, playrooms and patios.
"What's really attractive about the flexible tiles is homeowners can get creative with their garage flooring to make the space more inviting," said Angers. "The inside of the house may look like a museum, but the garage can reflect the homeowners' more playful side by using bright colored tiles to accent the room."
A clean, organized garage with a great floor will make the garage a joy to be in and the pride of the neighborhood.
"Anyone can sell you product, but Tailored Living offers thoughtful storage solutions that work for you and your family," said Angers.
He offered these questions to ask yourself when designing a garage solution:

Who will be using the space?
Who is the best person to undertake this project?
What's your time frame from start to completion?
What needs a place?
What functions will you and your family perform in the space now and in the future?
What's on your wish list?
When does it need to be accessed?
How frequently is it used?
How do you currently use the space?
How quickly do I want to use the space?
Where is the best place for these items to go?
Why are you doing this?
About Tailored Living
Tailored Living is headquartered in Orange, Calif. at Home Franchise Concepts. Its independently owned and operated franchises proudly offer homeowners and businesses high quality storage solutions for garages, closets, pantries, mudrooms, home offices and even guest rooms through complimentary in-home estimates and consultations, professional measuring and installation. Tailored Living franchises also offer garage flooring. For more information on Tailored Living please call 1-800-519-6296 or visit http://www.tailoredliving.com. Like us on Facebook at http://www.facebook.com/tailoredliving.
###