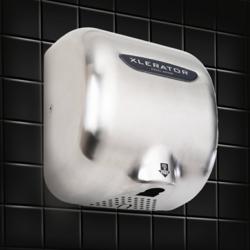 "XLERATOR was chosen as a top Money-Saving Product because it provides an economical solution that offers significant cost savings to building management."
East Longmeadow, MA (PRWEB) September 15, 2011
Excel Dryer, Inc. is pleased to announce that BUILDINGS Magazine has selected its XLERATOR high-speed, energy-efficient hand dryer as a Top Money-Saving Product for 2011. The product was part of a special feature in the magazine's June 2011 issue.
Finalists were based on the money-saving qualities offered to building owners and facility managers in areas such as energy consumption, water savings, lighting, productivity, maintenance, and more. After reviewing over 125 submissions, BUILDINGS' editorial staff selected an elite group of products.
XLERATOR completely dries hands in 10 to 15 seconds—three times faster than conventional dryers. It uses 80% less energy and delivers a 95% cost savings versus paper towels, while creating a more hygienic restroom. XLERATOR also is the only hand dryer to be MADE IN USA Certified®, the first hand dryer to be GreenSpec® listed and helps facilities qualify for multiple LEED® (Leadership in Energy and Environmental Design) credits by the U.S. Green Building Council.
"XLERATOR was chosen as a top Money-Saving Product because it provides an economical solution that offers significant cost savings to building management," says Chris Olson, chief content director at BUILDINGS.
William Gagnon, vice president of marketing and key accounts, Excel Dryer, notes that the company's website, http://www.exceldryer.com, features a cost savings and environmental impact calculator that facility managers can use to create a detailed report about their specific projects with actual savings and ROI figures. The report compares the costs of hand dryers to paper towels and shows savings based on the purchasing and handling cost of paper towels along with the cost of electricity per kilowatt-hour. The calculator also determines the specific environmental benefits of using XLERATOR dryers, detailing realistic reductions in CO2, pounds of paper towel waste, cubic meters of landfill, gallons of water, and gasoline emissions; the report also cites the specific number of trees saved by using high-efficiency, high-speed hand dryers.
XLERATOR hand dryer's speed, effectiveness and proven performance have established new industry standards. Currently, XLERATOR is installed all over the world in a variety of restrooms, including high-profile destinations such as United States Green Building Council Headquarters in Washington DC, Simon Mall Properties and Class A Office Buildings such as Citigroup, Geico and Bank of America just to name a few.
About BUILDINGS
BUILDINGS is a publication that serves over 73,450 building owners and professional facilities managers in North America. The monthly publication helps readers make smarter decisions relevant to the management, modernization and operation of their facilities.
About Excel
Excel Dryer, Inc. manufactures the industry's finest quality American made hand dryers featuring the XLERATOR® model. For more than 43 years, Excel's full line of hand dryers has provided cost-effective dryers for schools, hospitals, airports, service stations, correctional facilities, restaurants, stadiums, movie theaters, health clubs, office buildings, factories, hotels and many other commercial facilities.
###