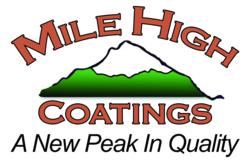 "We have to continue to search for a cure and support the mothers, sisters, and daughters who have faced breast cancer."
Fort Collins, CO (PRWEB) September 30, 2011
Mile High Coatings owner, David Nanninga, said "The main reason I am reaching out to Hope Lives is because my grandmother battled breast cancer and I've known far too many women in my life that have endured the battle with breast cancer. We have to continue to search for a cure and support the mothers, sisters, and daughters who have faced breast cancer."
Hope Lives was founded in 2001 by Lydia Dody, a Ft Collins businesswoman who had battled breast cancer. After her recovery, Lydia wanted to ensure that the approximately 200 women in Larimer County and Windsor, CO diagnosed each year receive complete post-diagnosis support and care.
About Mile High Coatings
A painting and specialty coatings company that offers A New Peak in Quality. Mile High Coatings maintains a standard of quality second to none in the industry. As a specialty coatings company, Mile High Coatings is not only an everyday house painting contractor; they also provide professional installation of epoxy flooring and acid stained concrete floors. Services include interior and exterior residential and commercial painting, deck and fence stain, power washing, and epoxy flooring for basements, garages, driveways and commercial spaces. They also specialize in decorative and acid stained concrete for patios, basements, walkways and commercial spaces.
About NALA™
The NALA (National Association of Local Advertisers), a small business association, provides assistance for local businesses by bridging old line advertising to marketing, using the online world of banner ads, email campaigns, video and mobile text advertising while offering member benefits, health discounts, and a charity program. The NALA has created a strong emphasis on partnering with non-profits, by giving their members the ability to participate in non-profit drives all year.
Contact: Mile High Coatings: David Nanninga
970-214-1703
info(at)milehighcoatings(dot)com
http://www.milehighcoatings.com
Mile High Coatings Facebook
Contact: NALA: Tiffani Tendell
310.859.9129
press(at)roseadvertising(dot)net
the NALA Facebook
###