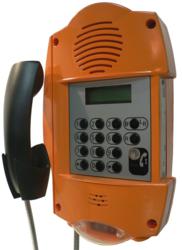 We see a growing demand for Class 1 Division 1 communication systems for hazardous areas, and the EPPH-229A explosion proof telephone meets that requirement
Kemp, TX (PRWEB) September 14, 2011
The EPPH-229A explosion proof phone from Magnalight.com is a waterproof and dustproof beacon equipped phone that is approved for use in Class 1 Division 1 hazardous environments. Featuring last number redial, R button for flash/earth, and call memory, this explosion proof phone is microprocessor controlled and programmable via remote telephone through DTMF tones. This explosion proof phone is available in a handset model EPPH-229A or a headset model EPPH-229AH with an adjustable microphone and noise cancelling circuitry. A polyester plastic housing and handset provides impact resistance, and a stainless steel armored cord provides a durable and rugged connection. An LCD display screen located above the full feature keypad provides clear operating indicators, and an integrated LED beacon located at the bottom of the phone housing provides easy location of the unit under poor visibility conditions. This phone operates with voltages ranging from 12 VDC to 60 VDC and is designed to work with common public and private phone networks. The electronic bell ringer on this unit produces 90dB at 1 meter; ensuring operators will hear incoming calls under noisy conditions. IP66 rated Waterproof and Dustproof, this explosion proof phone is ideal for areas where operators need convenient access to telephone communications while engaged in work operations within a hazardous location.
"We see a growing demand for Class 1 Division 1 communication systems for hazardous areas, and the EPPH-229A explosion proof telephone meets that requirement," said Rob Bresnahan with Larson Electronics' Magnalight.com. "With a wide variety of integrated features, including beacons and hands free headsets, these explosion proof phones and intercoms can operate on standard POTS as well as private VOIP networks."
Larson Electronics' Magnalight produces a wide range of explosion proof lighting, explosion proof accessories, hazardous location lights, work area lights, and explosion proof fans and blowers. The entire line of Magnalight industrial grade products can be viewed by visiting Magnalight .com or you can call 1-800-369-6671 to learn more about custom ordering options. For international inquires call 1-214-616-6180 for more details.
###