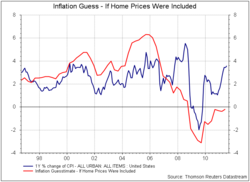 "We would be fine with the announcement of QEIII." – Mark Dodson, CFA
Nashville, TN (PRWEB) September 15, 2011
As next week's Federal Open Market Committee meeting approaches, many analysts are speculating as to what actions Chairman Bernanke and the Federal Reserve will take to further stimulate the US economy, if any. Mark Dodson, CFA, Director of Research at Hays Advisory, says, "We would be fine with the announcement of QEIII."
Dodson suggests that economists in the US have a fixation on inflation, and he thinks that we need a new generation of economists to take over who didn't live through the 1970s and now suffer from inflation OCD. He highlights that, as part of this obsession, analysts in the US have spent the last 20 years massaging Consumer Price Index (CPI) statistics or removing items such as actual home prices from the basket of goods that is tracked in order to make projections easier.
Dodson believes that nothing could help the perception of monetary policy now more than to include actual home prices in inflation statistics (see chart), which were removed years ago, and are still declining. With such prices included in the CPI data, analysts would have a very different picture of the current price growth in the US.
The picture painted by the addition of the housing prices to the CPI, along with a few other variables, has led Dodson to be supportive of further quantitative easing efforts by the Federal Reserve, such as QEIII. He says, "It may sound contradictory to how many individuals have been raised in markets, but in this case, the Fed should add liquidity until interest rates actually start to rise. Only at that point will they have pushed enough money into the economy to satisfy all the demand that the we have for liquidity."
About Hays Advisory, LLC
Hays Advisory produces stock market and economic analysis for individual and institutional clients that is both widely followed and internationally recognized. Subscribers may gain insight from Hays' disciplined, unemotional approach and a better understanding of the factors that are driving long-term market trends.
In addition to providing research, Hays Advisory manages an assortment of investment portfolios focused on domestic, international, and global equities, along with two new portfolios that seek consistent returns and downside protection by investing across multiple asset classes.
At the core of the research and asset management business, is a time-tested tactical asset allocation model. This disciplined approach is designed to move more assets away from stocks when the model indicates higher market risk and allocate more assets to stocks while in the early stages of the up cycles.
###