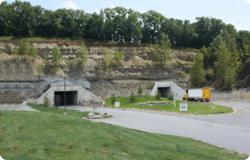 We love that the underground is environmentally friendly and that the consistent climate keeps utility costs down.

Zach Fletcher, Power Sales Regional Sales Manager
Lenexa, KS (PRWEB) September 14, 2011
Meritex announced six new leases totaling 224,000 square feet of space at the underground Meritex Lenexa Executive Park. Couple this with the leases from the spring, and Meritex has leased a total of 371,120 square feet through the first six months of 2011. "Although it's only 70 degrees underground, our lease activity this summer has heated up," commented Lonnie Cannon, Meritex Property/Leasing Manager. "In addition to the six new lease deals, we've also leased over 145,000 square feet of space on a short term basis to four other companies."
New tenants to Meritex include Ceva Biomune, which has leased 45,000 square feet of space for its warehouse and distribution operation.
In addition, Meritex has leased 24,000 square feet of space to a west coast health supplement company. They chose to expand their distribution operation to the Midwest in order to take advantage of distribution efficiencies. "Besides the central location and the property being an environmentally friendly facility, we like that it's insulated from natural disasters. Because of this we will use our space at Meritex Lenexa Executive Park as our disaster recovery site as well," their spokesman said recently.
Power Sales has expanded by 26,000 square feet and renewed its lease for an additional three years for a total of 96,000 square feet. Zach Fletcher, Regional Sales Manager, recently commented, "We love that the underground is environmentally friendly and that the consistent climate keeps utility costs down."
Worldwide Wine & Spirits has renewed its lease for 28,000 square feet. Worldwide has been a tenant at Meritex Lenexa Executive Park for over seven years and has expanded several times.
Service Pak has doubled their space in three months from 25,000 to 50,000 square feet to accommodate the addition of a board sheeter and printing press in order to better serve their customers. "We enjoy the underground environment," stated Lon Wilkerson, Sr., "and appreciate that the Meritex management team is on site and very responsive."
Uhlig has been a tenant of Meritex for over five years and has renewed its lease on 6,000 square feet of space.
Company Information: Meritex is a private real estate investment and management company that acquires, develops, owns and operates commercial real estate, primarily institutional grade, multi-tenant industrial properties. The Company owns, leases, and manages 8.8 million square feet of commercial real estate in 7 markets in the U.S. Its portfolio consists of multi-tenant industrial, office and subsurface industrial properties. The Company's properties are located in Atlanta, Columbus, Denver, Houston, Indianapolis, Kansas City, and Minneapolis-St. Paul. Additional information can be found at the Company's website http://www.meritex.com.
###