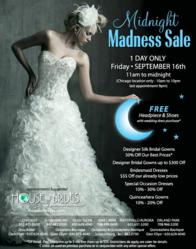 Dale Buziecki says, "Midnight Madness is completely unique with savings and promos specially created for the event that will not be repeated."
Glen Ellyn, Illinois (PRWEB) September 13, 2011
Excitement is brewing for House of Brides Midnight Madness Sale this Friday. Brides have been calling for appointments at all locations since the ad hit this past weekend. Now with 3 days before the sale, stores are reporting they are close to being fully booked even with newly extended hours.
Salons are opening 1-hour early at 11:00am until Midnight excluding the Chicago salon. House of Brides Couture in Chicago is located at 730 North Franklin Street in the River North neighborhood and is open 10:00am – 10:00pm on Friday.
The hype is well deserved as industry consultant Dale Buziecki says, "Midnight Madness is completely unique with savings and promos specially created for the event that will not be repeated."
The Midnight Madness Sale is exclusive to House of Brides and offers notable savings on wedding dresses, bridesmaid dresses, special occasion dresses and Quinceanera gowns. Additional storewide savings on headpieces and veils, flowergirl dresses and accessories are included.
Midnight Madness also features a Free Headpiece and Free Shoes promotion with the purchase of a wedding dress during the sale. Some restrictions do apply to the promotion. Customers can contact a House of Brides salon for details.
House of Brides stores are already preparing for Friday's event. Staff is checking-in new inventory delivered this week specifically for the sale. Consultants are making their final calls to their clientele. Champagne and Hor d'oeuvres are ordered. President Eva Buziecki says, "We're excited for Midnight Madness! It is great event for Brides and their wedding parties to enjoy the experience and savings!"
The Midnight Madness event is Friday September 16th at all House of Brides locations. The hours are 11:00am – Midnight. The Chicago salon is open 10:00am – 10:00pm with the last appointment at 9:00pm. Visit http://www.houseofbrides.com for directions and salon hours.
About House of Brides:
House of Brides established its first brick-and-mortar store in 1929 and has since grown to 10 Chicagoland stores and global E-Commerce website, http://www.houseofbrides.com. Millions of Brides and their wedding parties visit our salons and global website for over 30,000 wedding and special event products.
###