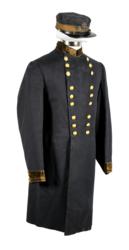 General Butler was a very controversial figure during the war. He was the first to call slaves escaped into the Union lines as "contraband of war" and refused to return the fugitives to the Confederacy despite the Fugitive Slave Act of 1850.
Boston, MA (PRWEB) September 14, 2011
Born November 5, 1818 in Deerfield, NH, General Butler joined the Massachusetts Militia when he was twenty-one and reached the rank of brigadier general in 1855. When the Civil War erupted six years later, Butler led the 8th Massachusetts Infantry Regiment to secure Baltimore for the Union. President Abraham Lincoln then swiftly appointed Butler as a major general on May 16, 1861.
General Butler was a very controversial figure during the war. He was the first to call slaves escaped into the Union lines as "contraband of war" and refused to return the fugitives to the Confederacy despite the Fugitive Slave Act of 1850.
Prior to the outbreak of the Civil War, General Butler was a prominent criminal attorney and had utilized his wide network of contacts to pursue his political ambitions. He was elected the Massachusetts House of Representatives in 1853 and then to the Senate of the Commonwealth in 1859. After the war, he returned to politics and was elected to the U.S. House of Representatives for two terms (1867-75, 1877-79).
Towards the end of his life, he finally realized his dream of becoming the Governor of Massachusetts. As the 33rd Governor of the state, he appointed the first African-American judge in the nation George Lewis Ruffin, (1834-1886) and the first woman to a state executive office Clara Barton, (1821-1912).
John Calkins was a prominent figure on the Boston antique scene and a connoisseur of fine art, antiques and photography. He served as vice president of the Bank of Boston for over 36 years. In this position, he was given the task of purchasing all of the artwork for the bank's new headquarters at 100 Federal Street.
Well known in art and antique circles throughout New England and New York City, John is credited with bringing the Boston Antiques Show to the city and served on committees for the Ellis Antiques Show, the Boston International Art Fair, the Hancock Shaker Village Antiques Show and many others.
Mr. Calkins art collection includes two wonderful pastel and watercolor paintings by Jane Peterson (1876-1965), whose works are held by the Metropolitan Museum of Art. Jane Peterson's landscapes and still life's are a blend of the Impressionist and Expressionist movements.
Peterson traveled extensively for a woman in her day, and once accompanied Louis Comfort Tiffany on a continental painting expedition in his private railway car.
Her family had a summer home in Ipswich, Massachusetts, and she is well known for paintings of the New England coast. There is a lovely fall scene of trees in the sale estimated at $5000-$8000 and the second watercolor is a still life of sunflowers estimated at $2000-$3000.
There is 19th century oil on canvas by the Massachusetts portrait painter Robert Deacon Peckham (1785-1879), whose work was once described by an art historian as "hard, stiff and flat". The portrait is of Charles Norton of Goshin, Connecticut as a young man and estimated at $3000-$4000.
Among other important works in the sale, are two landscapes of New Hampshire. The first a view of Mt. Monadnock, signed, oil on canvas by landscape artist Charles Curtis Allen (1886-1950). Mr. Allen was a contemporary of Frank W. Benson, one of the most famous and well-known American landscape Impressionists who painted Mt. Monadnock extensively. Charles Curtis Allen studied under Phillip Leslie Hale at the Worcester Museum of Art School.
The second New Hampshire landscape, is a signed pastel by A.C.Goodwin, (1864-1929) with a Shore Gallery label.
Phillip Leslie Hale is also represented in the sale with "Torso of a Nude Woman", a pencil and charcoal sketch with an exhibit label from the Vose Gallery of Boston, Ma.
Another important lot is a painting by Lynn Beach artist, Edward A. Page, oil on canvas of a farmyard scene of hens, and ducks swimming in a pond.
Much of Mr. Calkins furniture is included in the sale as well. There is a wonderful campaign chest with brass mounts and leather surface and an early 20th century custom Hepplewhite mahogany sideboard with inlaid bell flower and oval panels of satinwood and ebony, with original hardware.
A 19th century carved wooden figure (22½ x 6), thought to be the Roman goddess of fertility Feronia , and marked Feronia 22, is estimated at $750-$1200.
The Asian items in the collection include a 19th century Rose Medallion garden seat, with unusual scenic panels estimated at $1500-$2000 and a late 19th century Japanese bronze fan shaped table, with turtle, salamander, and floral branch design on a tri-legged base estimated at $1000- $1500.
This sale will take place Sunday, October 2nd, 2011, starting at 10:00am at the Kaminski Auction gallery at 117 Elliott Street, Rte 62, Beverly, MA. Preview is Monday, September 26th - Saturday, Oct 1st from 10:00am-5:00pm and from 8:00am the day of sale. Bidding online through Live Auctioneers. For more information or to register/bid by phone please call 978-927-2223/2228 fax.
###