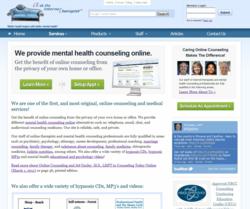 Get the benefit of online counseling from the privacy of your own home or office.
Scottsdale, Arizona (PRWEB) September 14, 2011
AskTheInternetTherapist.com is pleased to announce their new and totally enhanced website. The new site is easier to navigate and locate the exact type of health care that is needed. Some of the new features include an updated encrypted chat room, a clear and easy scheduling feature, and the ability to download almost all products instantly, including streaming video for Jef Gazley's mental health videos.
AskTheInternetTherapist.com, formerly known as internettherapist.com, has been serving the public since 1998 making it the oldest, continuous online counseling site offering client sessions. AskTheInternetTherapist.com is a full service online counseling and medical clinic. The prestigious staff includes licensed counselors, psychologists, psychiatrists, physicians, and other health care professionals.
AskTheInternetTherapist.com also offers a full line of mental health products, such as videos (online streaming, DVD, and VHS), books and e-books, and hypnosis CDs and MP3s. No other online counseling site offers this array of products to complement online counseling sessions. AskTheInternetTherapist.com strives to be the public's one stop site for all mental health and medical assistance. Jef Gazley, LMFT is part owner of the site and a psychotherapist in private practice in Scottsdale, Arizona. He is the author of several mental health videos and books, and numerous hypnosis CDs and MP3s, as well as the developer of the ADD-care® product line. ADD-care® is an all-natural alternative to the stimulants for symptoms consistent with Attention Deficit Disorder.
There are numerous changes occurring in the mental health field and health care in general. The financial crisis of health care has been well documented. A huge part of this cost stems from how expensive it is to build and maintain brick and mortar businesses, and the amount of paperwork generated by traditional practices. AskTheInternetTherapist.com is one of the original pioneers of online counseling and remains on the cutting edge of this much needed revolution in health care.
A further trend pushing the need for distance counseling and health care is the shifting population movement, especially in the United States. Many people are moving to more rural areas where it is sometimes difficult to locate the appropriate medical and counseling specialties that are needed. AskTheInternetTherapist.com is conveniently situated to reach out comfortably and easily to this population with quality health care.
With the new and improved website, AskTheInternetTherapist.com is poised to continue and expand their quality online health care for years to come. As we continue to embrace digital cost effective solutions to the world's health problems, AskTheInternetTherapist.com remains committed to innovation without losing the intimate personal atmosphere of traditional treatment.
http://www.asktheinternettherapist.com
###