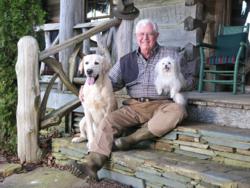 We've done everything we can to make sure the dog food is the best food available on the market today.
--Southern Foods At Home President Trey Pounders
Greensboro, N.C. (PRWEB) September 14, 2011
Bob Timberlake, an avid pet lover and one of the nation's foremost realist painters and furniture designers, has partnered with Southern Foods At Home, a leading provider of all-natural, high-quality food for home delivery, to launch Bob Timberlake Signature Series Super-Premium Dog Food.
The Bob Timberlake Signature Series Super-Premium Dog Food line maintains the high standards and respect for tradition that are associated with Bob Timberlake products. Developed after years of research, analysis and testing, the scientifically formulated food contains the ideal combination of high-quality ingredients specifically selected for their nutrient qualities, palatability and digestibility in dogs and puppies of all ages and breeds.
To develop the new line, Timberlake commissioned Charles Garnett, an expert on canine nutrition and the owner of premium pet food company Plantation Dog Food. Garnett describes the product as "as well put-together as we could possibly make it."
Timberlake, a passionate outdoorsman and lifelong dog lover, says he was driven to introduce the Signature Series Super-Premium Dog Food after learning how inferior most dog foods are following the death of his grandson's beloved bird dog. "He died from a liver disease that was caused by some imported filler for dog food. When he died from this, it made me mad," Timberlake explained. "I tried to look into dog food, to find out what was going on and why this happened. We then commissioned Charles to create the best dog food in the world. I told him,'I want the best. I don't ever want to have this problem ever, ever again.'"
To bring the Signature Series Super-Premium Dog Food to pet owners, Timberlake has partnered with Southern Foods At Home. "For the longest time, we've focused on providing the best of the best food products available to families. But we've always left out one of the best and most loyal members of the family, the family dog. This is our way of being able to take care of that special member of the family," said Southern Foods At Home President Trey Pounders. "We've done everything we can to make sure the dog food is the best food available on the market today."
As part of their launch of the Signature Series Super-Premium Dog Food, Timberlake and Southern Foods At Home will be hosting a party beginning at 6:30 pm on Tuesday, September 20, 2011, at the Bob Timberlake Gallery, located at 1714 East Center Street Extension, Lexington, NC 27292. The event, which is open to members of the media, will benefit K9s for Warriors, an organization that raises awareness and funds to provide service dogs to wounded military members. A donation will be made for each bag of dog food sold, and the organization will also receive a large supply of Bob Timberlake Signature Series Super-Premium Dog Food.
About Bob Timberlake
Bob Timberlake is an internationally acclaimed artist and designer who makes his home in Lexington, North Carolina. His work is known for its intricate attention to color and detail, and has been exhibited throughout the world. Since he began painting more than 40 years ago, Timberlake has been the recipient of countless honors and awards. Timberlake is also renowned for his collection of furniture, which is the most successful line in the history of furniture. An avid outdoorsman and pet lover, Timberlake is also involved with many environmental issues and boards, including the N.C. Wildlife Habitat Foundation and Keep America Beautiful. For more information, visit bobtimberlake.com.
About Southern Foods At Home
Southern Foods At Home offers a full line of all-natural, top-quality restaurant foods, many of which are free from growth hormones, preservatives, steroids, antibiotics and colorings. The company provides free delivery directly to customers' homes. In addition, a staff of dietitians, fitness instructors, chefs, doctors and health experts are available to assist customers in leading a healthier lifestyle. In business since 1954, Southern Foods At Home employs more than 100 people and was recently honored as one of Inc. Magazine's 5,000 Fastest Growing Private Companies in America. To learn more about Southern Foods At Home, please visit SouthernFoodsAtHome.com.
###