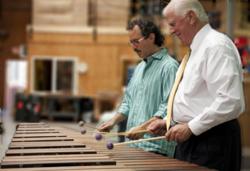 "We're proud that our values of innovation and high quality craftsmanship resonate with Congressman Thompson."
Ron Samuels, Founder, Marimba One
Arcata, CA (PRWEB) September 15, 2011
In an escape form political dissonance, Congressman Mike Thompson (D-St. Helena) made a harmonious visit to premier instrument maker Marimba One in Arcata, California, this month.
Here he learned to use mallets -- to be used to beat rosewood bars on a marimba, rather than opponents. He apparently resonated with founder Ron Samuels, who found the Democrat in tune with him.
"He sounded focused and articulate," said Samuels, who along with staff gave Thompson a percussive welcome.
Marimba One is a successful business that resounds with the greatest values of California: entrepreneurship, innovation, high-quality craftsmanship, friendliness, and a deep appreciation of music.
The Arcata-based manufacturing company employs a team of master craftsmen who build the world's finest concert marimbas, which are exported internationally. Congressman Thompson lauded the importance of supporting Marimba One's growing business.
Marimba One is an active participant of local community events and associations -- member of Humboldt Made, sponsor of WoodFair, and partner with HSU School of Business to name a few. "We all sing from the same page," Samuels explains.
Congressman Thompson was most curious about the skill required to tune the keyboard and resonators that provide the acoustics of a marimba, and the craftsmanship involved in building the instrument frame.
Samuels and Thompson played together, and got a standing ovation.
About Marimba One
Marimba One is the world's premier maker of concert marimbas. Located in the college town of Arcata, nestled in the Redwoods of California, the company makes custom marimbas, giving great attention to the sound that customers want on their instrument within their budget.
# # #