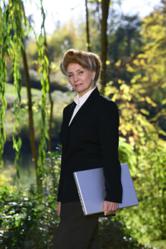 "With Amazon's assistance, my company's personal hand-held water misting devices could empower every individual to provide their own instant humidity supplement for dry eyes, eye allergies, and dry skin."-Sharon Kleyne
Grants Pass, OR (PRWEB) September 14, 2011
Sharon Kleyne, international water advocate and Founder of the Bio-Logic Aqua Water Research Center, is pleased to announce that Nature's Tears EyeMist, her company's breakthrough product for dry eyes and eye allergies, is now available on Amazon.com.
"Amazon.com is an ideal venue for Nature's Tears EyeMist, which is in the forefront of a new kind of water business," explains Mrs. Kleyne. "Amazon.com is open 24 hours a day and has a global outreach. Nature's Tears EyeMist fits extremely well with Amazon's commitment to innovative products and green marketing. The product is 100% water and 100% environmentally safe, friendly and all-natural, with no artificial ingredients or harmful propellants."
Nature's Tears EyeMist contains only the company's trade secret, "Bio-Logic Aqua all-natural tissue culture grade water." The bio-compatible, pH correct water naturally humidifies dry eyes and soothes eye allergies. Formulated eye drops do not add moisture to dry, dehydrated eyes.
"The global water business," Mrs. Kleyne observes, "has always been dominated by beverage and European spa waters. Bio-Logic Aqua Research, an American company, is the first to take the water business in an entirely new direction to meet changing health and water requirements in an increasingly crowded, polluted and drying world. Nature's Tears EyeMist is our best seller and signature product."
Nature's Tears EyeMist is available in thousands of drugstores nationwide. This all-natural, personal hand-held device humidifies the air in front of the eyes, which the tear film naturally absorbs. The mist contains the correct natural solute content, pH balance and osmolarity to increase tear film water content to alleviate dry eye and eye allergies. Endorsed by ophthalmologists, optometrists, pharmacists and dry eye researchers around the world, this American product received a United States patent in April, 2009 as the first of its kind to describe misting the eyes and tear film with water to soothe dry eyes.
Nature's Tears EyeMist is available at Amazon.com under "Health & Personal Care > Personal Care > Eye Care > Eye Drops, Lubricants & Washes."
Bio-Logic Aqua Research, which bottles Nature's Tears EyeMist, was founded by Sharon Kleyne in Grants Pass, Oregon, two decades ago, out of concern for the health effects of water, pollution, climate change and dry air.
"The number one global environmental threat to health," Mrs. Kleyne explains, "is that the air we breathe is becoming too dry. Our 'breath of life' is endangered. Everyone knows the air is polluted and dirty but few realize that as a result, the air is losing its life-giving clean water (humidity)."
"I am excited about Amazon.com and the new business of water," Mrs. Kleyne adds. "With Amazon's assistance, my company's personal hand-held water misting devices could empower every individual to provide their own instant humidity supplement for dry eyes, eye allergies and dry skin, regardless of how dirty or dry the air."
"Earth will always change," she concludes, "and for life to survive for eternity, we must learn to adapt to the changes. In the current global environment, with Amazon's help, it is realistic to predict that Bio-Logic Aqua's business of water products such as nature's Tears EyeMist will one day be as indispensable as drinking water, clothing, sunscreen and lip balm."
Don't miss The Sharon Kleyne Hour – Power of Water at http://www.worldtalkradio.com, Apple iTunes and Green Talk Network, Mondays at 10 a.m. PST/PDT. Sponsored by Nature's Tears EyeMist and Bio-Logic Aqua Research.
###